There are 49 articles attributed to this author.
Displaying articles 21 to 30.
NBA -- Pacers clip Celts, 99-97, take 3rd spot in the East
Tue, 13 Mar 2018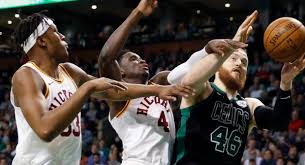 BOSTON ? The Indiana Pacers proved that their first win over Boston in early February was no fluke as they pounced on the Celtics again​,​ 99-97​,​ on Sunday night at the TD Garden. All-Star shooting


NBA -- Clippers hand Celtics third straight loss, 129-119
Fri, 16 Feb 2018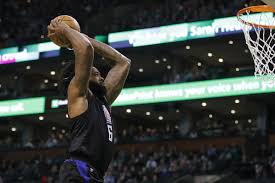 DeAndre Jordan dunks. BOSTON ? The losing streak continues. DeAndre Jordan did just enough with 30 points and 13 rebounds to lead the LA Clippers over the struggling Boston Celtics in a 129-119 upset on Wednesday


NBA - New-look Cavaliers whip Celtics, 121-99
Tue, 13 Feb 2018
BOSTON ? Lebron James had a big smile on Sunday, one he will probably wear until the end of the season. The visiting Cleveland Cavaliers defeated the Celtics 121-99 Sunday afternoon at the TD Garden, spoiling a double celebration with Paul Pierce?s retirement ceremony right after the game. All


NBA -- Oladipo shines as Pacers topple Celtics
Sun, 11 Feb 2018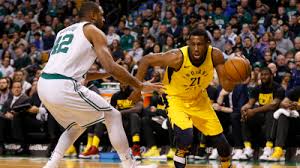 BOSTON ? Victor Oladipo is consistently proving to be ​a ​scoring dynamo. ​The shifty guard exploded for ​35 points and 10 rebounds to power the ​Indiana ​Pacers over the ​Bos


NBA -- Rozier's triple-double​ lifts Celtics past Knicks
Fri, 02 Feb 2018
BOSTON ? No ​Kyrie ​Irving, no problem. The Celtics were formidable even without its star point guard ​and, beat the Knicks 103-73 before a sizeable crowd Wednesday night at the TD Garden. Five Boston players finished in double figures while Terry Rozier salvaged his first c


NBA -- Embiid leads Sixers' 89-80 romp over Irving-less Celtics​
Fri, 19 Jan 2018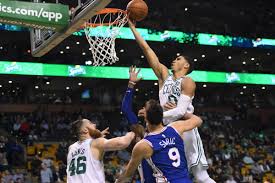 BOSTON ? On their third try this season, newly-minted All-Star Joel Embiid and his Philadelphia 76ers finally secured a hard-earned 89-80 win over the Boston Celtics Thursday night at the TD Garden. With Kyrie Irving ​


NBA -- Irving's 33 carries Celtics past Nuggets
Fri, 15 Dec 2017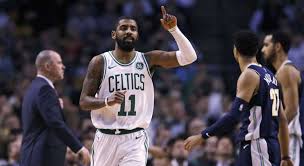 BOSTON ? Kyrie Irving scored 33 points while Jayson Tatum and Jaylen Brown ​made a ​combined 15-of-21 field goal​s to lift the Boston Celtics over the Denver Nuggets, 124-118, on Wednesday night at the T.D.


NBA -- Celtics hold off Sixers, 108-97
Sun, 03 Dec 2017
BOSTON ? ​The Boston Celtics thwarted the upstart Philadelphia 76ers 108-97 on Wednesday night at the TD ​Garden. ​The Celtics broke away from a 67-67 third quarter tie and pounced on a weary Sixers team that had played their third game in four nights. ​ ​Kyrie Ir


NBA -- Celtics rally past Warriors, 92-88, win 14th straight
Fri, 17 Nov 2017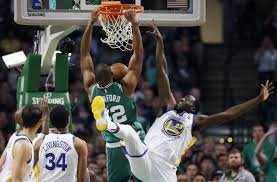 BOSTON. The Boston Celtics extended their season-high streak to 14 on Thursday night, stunning the Golden State Warriors, 92-88 before a sell-out crowd at the T.D. Garden. After trailing by as m​any​ as 17 in


NBA -- With Irving out, Celtics rally past Hornets, 90-87
Sun, 12 Nov 2017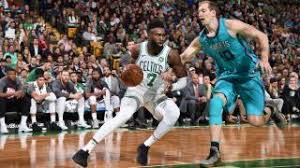 BOSTON ? ​With Kyrie Irving knocked out of the game with a facial injury, the Boston Celtics rallied from an 18-point deficit to stun the Charlotte Hornets, 90-87, at the TD Garden. ​Irving went down ​ear