There are 667 articles attributed to this author.
Displaying articles 271 to 280.
NBA -- Nuggets strike gold, rout Lakers by 22
Tue, 07 Jan 2014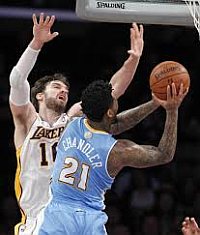 CHICAGO -- The Golden Nuggets are welcoming 2014 with a bang, winning two in a row, this time at the expense of the Los Angeles Lakers, who were ran out of their own building on Sunday. Timofey Mozgov powered his way


Durant drops 48 as Thunder escape Wolves
Mon, 06 Jan 2014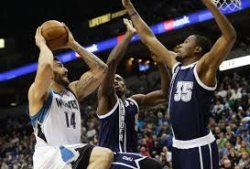 CHICAGO -- Unhappy with his team's two-game slide, Kevin Durant did what he does best -- score in bunches. KD, a 4-time All-Star and 3-time scoring champion, made 16 of 32 field goals for 48 points and the Thunder e


NBA -- Nets shock Thunder in Oklahoma, 95-93
Fri, 03 Jan 2014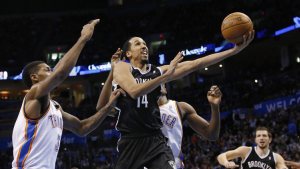 CHICAGO -- In a disappointing season teeming with several lows, the Brooklyn Nets found a bright spot Thursday night. Joe Johnson drilled a pullup jumper as time expired to lift the Nets to an improbable 95-93 victory


NBA - Raptors rally past Bulls, 85-79
Wed, 01 Jan 2014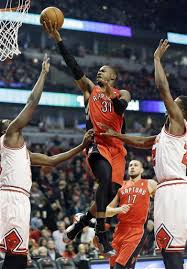 CHICAGO -- The Chicago Bulls will welcome the year 2014 on a losing note after the visiting Toronto Raptors came from behind to score a thrilling 85-79 victory on New Year's Eve at the United Center. The Raptors played c


NBA -- Mavs rain 13 threes in Bulls rout
Mon, 30 Dec 2013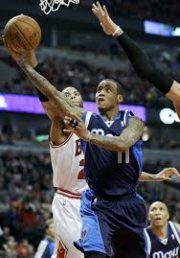 CHICAGO -- The Dallas Mavericks dropped 13 triples at the United Center to easily beat the Chicago Bulls, 105-83, on Saturday night. In an impressive show of firepower, the Mavs shot 52.6 from the field and 50 percent b


NBA -- Evans, Davis lead Pelicans past Nuggets
Sun, 29 Dec 2013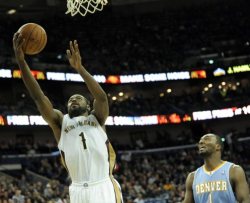 CHICAGO -- The Denver Nuggets showed a lot of fight by clawing back from an 18-point deficit to make it a game late in the fourth quarter but the New Orleans Pelicans held on, thanks to Anthony Davis and Tyreke Evans.


NBA -- Bulls celebrate Christmas by routing Nets
Thu, 26 Dec 2013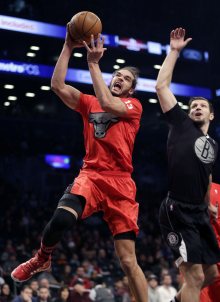 CHICAGO -- The Chicago Bulls spent Christmas Day on the road Wednesday and made the trip worthwhile with a 95-78 demolition of the slipping Brooklyn Nets at the Barclays Center. Taj Gibson, who was born and raised in Br


NBA -- Thunder beat Bulls to stay unbeaten at home
Sat, 21 Dec 2013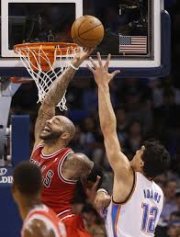 CHICAGO -- Make it a perfect 13-0 for the Oklahoma City Thunder at the home floor. Starring Kevin Durant, who finished with 32 points and nine rebounds, and Russell Westbrook, who added 20 markers and 10 assists, Okla


NBA -- Bulls drop to 9-15 after losing to Houston
Fri, 20 Dec 2013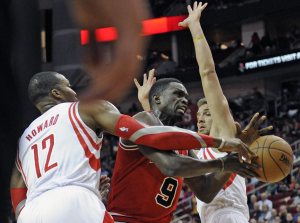 CHICAGO -- The Chicago Bulls' back-to-back road trip went on to disastrous start when they fell to the Houston Rockets, 109-95, Wednesday night at the Toyota Center. Dwight Howard finished with 23 points and nine reb


NBA -- Dunleavy 3 lifts Bulls over Bucks, 91-90
Sun, 15 Dec 2013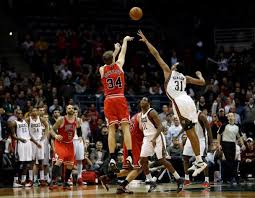 CHICAGO -- In a disappointing season of huge injury losses, the Chicago Bulls found something worth celebrating Friday night at the BMO Harris Bradley Center in downtown Milwaukee. Mike Dunleavy drilled a 3 with 5.8 seconds