There are 491 articles attributed to this author.
Displaying articles 251 to 260.
NBA -- Raptors take a bite out of the Pelicans, 108-101
12 Feb 2014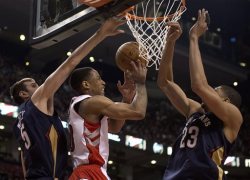 CHICAGO -- Toronto broke a close game wide open with a 15-3 fourth quarter run and the Raptors went on to dispose the New Orleans Hornets, 108-101, Monday night at the Air Canada Air Centre. With still 6:35 left t


NBA -- Thunder's Durant roars 41 against Knicks
10 Feb 2014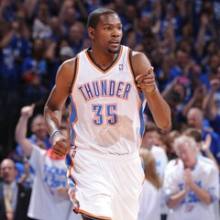 CHICAGO -- It was a simple case of too much Kevin Durant. The NBA's leading scorer poured 41 points Sunday afternoon and the hos Oklahoma City Thunder held off the visiting New York Knicks, 112-100, at the Che


NBA -- Undermanned Spurs fall in Brooklyn
08 Feb 2014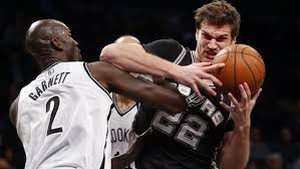 CHICAGO -- Playing minus five of their key players, the San Antonio Spurs put a gallant stand Thursday night when their nine-game Rodeo Trip continued at the Barclays Center in Brooklyn. But when the going got tough, th


NBA -- Rockets bump streak to four win over Suns
06 Feb 2014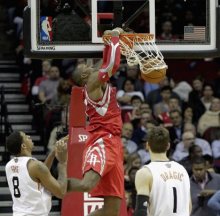 CHICAGO -- Dwight Howard showed the might that made him a prized free agent catch this past summer. The 6-foot-11, 265-pound center scored 34 points and grabbed 14 rebounds to lead the Houston Rockets to a 122-108 vic


NBA -- Kings rough up Bulls by 29
05 Feb 2014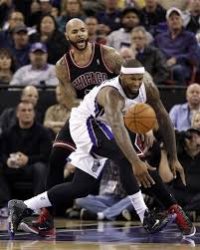 CHICAGO -- Bringing a knife to a gun fight is never a good idea. But that seemed to be the case Monday night at the Sleep Train Arena in Sacramento where the Chicago Bulls got a 99-70 beating at the hands of the Kings.


NBA -- Rondo helps Celtics hold off Magic, 96-89
04 Feb 2014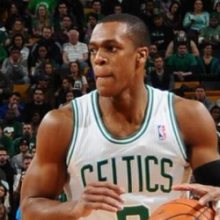 CHICAGO -- In his best game since returning from a torn ACL, point guard Rajon Rajon logged 19 points and 10 assists, both season highs, to lift the Boston Celtics past the Orlando Magic, 96-89, on Super Bowl Sunday. Jared Sulli


BA -- Aldridge scores 44 as Blazers down Nuggets, 110-105
25 Jan 2014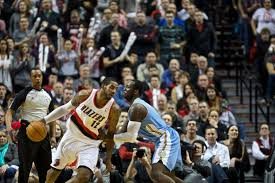 CHICAGO -- Left out as a starter in this coming All-Star Game, power forward LaMarcus Aldridge exploded for 44 points Thursday night to lead the Portland Trail Blazers to a 110-105 victory over the Denver Nuggets at the Mod


NBA -- Gibson beats the clock, Bulls bounce Lakers in OT
22 Jan 2014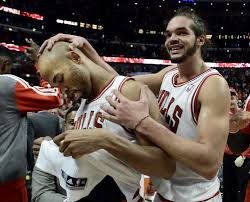 CHICAGO -- With .09 seconds left in overtime and the score tied at an even 100, it seemed imminent that the Bulls-Lakers tiff would require another extra five minutes to settle the score. But reserve forward Taj Gibso


NBA -- Thunder beat Warriors with Durant's career-high 54
19 Jan 2014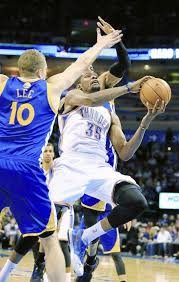 CHICAGO -- Kevin Durant had one of those scoring splurges Friday night. This time, it netted him a career-best 54 points as the Oklahoma City Thunder dispatched the dangerous Golden State Warriors at the Chesapeake Ener


NBA -- Pacers rout Knicks, keep best record at 31-7
18 Jan 2014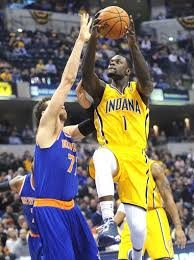 CHICAGO -- The Indiana Pacers stayed on top of the NBA standings Thursday night and polished their league-best record to 31-7. Their latest victims were the New York Knicks, who went down in flames -- 117-89 -- at the Ban