Search News:


There are 99,475 news articles in the database.
Displaying articles 66261 to 66280.

NIETES LEADS VICTORIOUS ALA BOYS
By Rene Bonsubre, Jr., PhilBoxing.com, 24 Jan 2010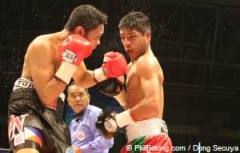 WBO minimumweight champion Donnie 'Anas' Nietes (L) of the Philippines scores with a short left to the head of Jesus Silvestre of Mexico during Saturday night's bout at the Cuneta Astrodome in Pasay City, Philippines.
Read Full Story >>>
Manny Pacquiao: From Famous to Infamous In One Fell Swoop
By Lorne Scoggins, BleacherReport.com, 24 Jan 2010
It is an undeniable fact that Manny Pacquiao is the biggest name in boxing. Love him or hate him, who can justifiably deny that particular statement? His record of 50-3-2 with 38 knockouts is more than just a testament of victories over mediocre, cherry-picked opposition. The little-big man from Read Full Story >>>
TAMARA'S LATE RALLY STUNS PINOY FANS
By Rene Bonsubre, Jr., PhilBoxing.com, 24 Jan 2010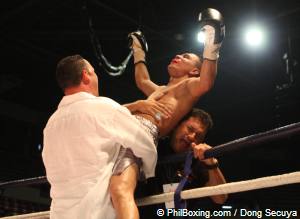 "I told him, "Remember your two little daughters in Colombia. Dig down inside. Do you want to go home and hear your kids call you champion?" " – this was the reply of trainer Butch Sanchez whe Read Full Story >>>
Respect for The Hawaiian Punch Brian Viloria
By Dennis 'dSource' Guillermo, Examiner.com, 24 Jan 2010
Brian Viloria gave it his all. Actually he almost gave too much. After mustering everything he could to stay up and give every ounce left from his enervated body, Viloria fainted in his locker room after the fight and was rushed to the hospital to get treated. Had referee Bruce McTavish not s Read Full Story >>>
Brian Viloria reminds us about the dangers of boxing
By Ricardo Lois, Examiner.com, 24 Jan 2010
Boxing is a gruesome sport. Those of us that follow the sport closely can kid ourselves by calling it the "sweet science" and marveling at the technical and athletic skill necessary to be successful in boxing, but in the end, fighters aim at punishing themselves to the brink of severe injury T Read Full Story >>>
No U.S. visa: Clottey coaches denied for Dallas
By Marv Dumon, Examiner.com, 24 Jan 2010


No visa for Clottey coach Two trainers for Manny Pacquiao's upcoming opponent, Ghana's Joshua Clottey, have been denied visas by the U.S. State Department. Godwin D Read Full Story >>>
Clottey looks to put is name on the mainstream map
By Brad Cooney, Examiner.com, 24 Jan 2010
Big Joshua Clottey is about to get the biggest fight of his life once he steps foot inside of the ring, and faces Manny Pacquiao. The scheduled March 13th bout is billed for Dallas, TX and will take place at the new Dallas Cowboy Stadium. Clottey outside of the boxing world is an unheard of nam Read Full Story >>>
Should Floyd Mayweather Jr have just stayed retired and not come back to boxing?
By Rick Rockwell, Examiner.com, 24 Jan 2010
Floyd Mayweather Jr's return to boxing has been a roller coaster of conflict and controversy. The man that was once hailed as the "pound for pound" best boxer in the world has become the man under heavy scrutiny. Where money used to rain, clouds of negativity and backlash have form Read Full Story >>>
MAYWEATHER-MOSLEY DONE DEAL FOR MAY 1?
By Ben Thompson, FightHype.com, 24 Jan 2010
According to multiple sources, the long-awaited showdown between WBA welterweight champion Shane Mosley and undefeated Floyd Mayweather Jr. is virtually a done deal. Golden Boy Promotions was already reserving May 1 and May 8 for future bouts, but it was unclear as to which date they were targeting Read Full Story >>>
Edwin Valero: The Superstar in Disguise
By Mike "Mykers" Boehm, DogHouseBoxing.com, 24 Jan 2010


Edwin "El Dinamita" Valero is the current undefeated WBC lightweight champion of the world. The southpaw fighter stands at 26 well deserved wins. Even more impressive, is he has won every fight by knockout! The tw Read Full Story >>>
Queen Elizabeth: Pacquiao gives Mayweather royal beating
By Michael Marley, Examiner.com, 24 Jan 2010
I knew that Manny Pacquiao is admired by the royal personage of a (Don) King. But, until I saw this creation of Pacland genius Art Garcia, I did not know that Queen Elizabeth II is also a Pacmaniac. Evidently, the queen follows the Pinoy Idol's exploits intently. This is what I imagine some Read Full Story >>>
Tamara Shocks Philippines, Wins By TKO12
By Carlos Cinco, Official Scorecard, 24 Jan 2010
PASAY CITY, PHILIPPINES – After 12 rough rounds of back and forth exchanges between Brian Viloria and Carlos Tamara, in the end, a new Light Flyweight champion was crowned. Carlos "El Olimpico" Tamara applied the pressure constantly and broke down the now ex-champion. Viloria had Read Full Story >>>
8CN Podcast: Freddie Roach!
By Brad Cooney, 8countnews, 24 Jan 2010
8CountNews caught up to famed fight trainer Freddie Roach and got his thoughts on the big Pacquiao "vs" Clottey fight. Roach updates us on the early kickoff of Pacquiao's camp, and gives us his thoughts on Clottey as an opponent. Roach and Manny both are not taking Joshua Clottey lightly by any st Read Full Story >>>
Tamara dethrones spent Viloria
By Cedelf Tupas, Philippine Daily Inquirer, 24 Jan 2010
MANILA, Philippines--With a furious finish, Colombian Carlos Tamara dethroned Brian Viloria as IBF light flyweight champion Saturday. Given up for dead after a tentative start, Tamara poured it on in the late rounds to score a 12th-round technical knockout over the Filipino-American known as Hawa Read Full Story >>>
So beats Reinderman for second straight win
By Rene Bonsubre, Jr., PhilBoxing.com, 24 Jan 2010
Breaking news…. GM Wesley So played the white pieces in his 7th round game against Dutch GM Dimitri Reinderman and won after 36 moves of a Dutch defense. The 16 year old So played 1. d4 and the 37 year old Reinderman employed the Stonewall variation of the defense which is his favourite again Read Full Story >>>
Multi Gold medal winning shooter Tac Padilla still dreams of Olympics
By Eddie Alinea, PhilBoxing.com, 24 Jan 2010
Thirty four years ago in 1976 at a very tender age of 12, Filipino marksman Nathaniel "Tac" Padilla had already crowned himself the world junior champion in his favorite – rapid fire, center fire and standard pistol events – in the Benito Juarez World Shooting Championships held Mexico City. F Read Full Story >>>
VILORIA IN STABLE CONDITION AFTER COLLAPSING IN DRESSING ROOM
By Ronnie Nathanielsz, PhilBoxing.com, 23 Jan 2010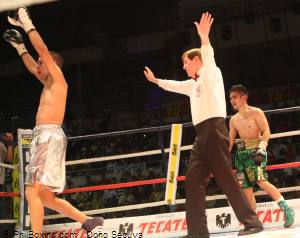 Brian Viloria who lost his IBF light flyweight title to Carlos Tamara of Colombia in a stunning TKO at 1:45 of the 12th round is in "stable condition" at the Makati Medical Center where he was transferred to after Read Full Story >>>
Hawaiian Pinched: Tamara stops Viloria in the 12th round
By Dennis 'dSource' Guillermo, Examiner.com, 23 Jan 2010
Brian Viloria was less than two minutes away from victory and defending his IBF world junior flyweight championship belt. He was heavily winded and was hanging on as best as he could. Carlos Tamara on the other hand was on an uphill battle and winning on the score cards against the champion in h Read Full Story >>>
MSG doubleheader
By George Willis, New York Post, 23 Jan 2010
BOXING is off to a wobbly start in 2010. Floyd Mayweather and Manny Pacquiao couldn't agree on terms for their much-anticipated bout, and now the welterweight unification fight scheduled for Jan. 30 between Shane Mosley and Andre Berto has been canceled because of the stress Berto has been und Read Full Story >>>
That's rich: Let Jerry Jones match Bob Arum's generosity for Haiti
By Michael Marley, Examiner.com, 23 Jan 2010
Based on their respective biographies and track records, Bob Arum and Jerry Jones love nothing more than a challenge. So to these two rich guys and sporting giants, one from pro football and one from boxing, I lay down a challenge. I am challenging Jones, owner of the Dallas Cowboys and that s Read Full Story >>>

<< First
|
< Previous
|
3314
|
3315
|
3316
|
3317
|
3318
|
3319
|
3320
|
3321
|
3322
|
3323
|
Next >
|
Last >>