There are 68 articles attributed to this author.
Displaying articles 21 to 30.
Can Devon be lucky again tonight?
26 Feb 2012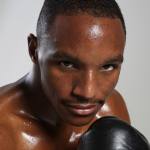 Bible Belt Down South, SC – The last time Devon Alexander fought, it was against tough Argentinian Matthysee in light welterweight. In the eyes of ordinary people and ordinary writers, it looked like Matthysee punished the f


Glenn Donaire defends title on March 16!
25 Feb 2012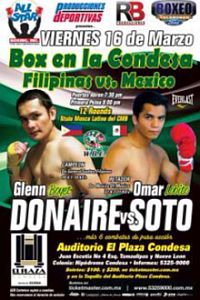 South Carolina -- Just a moment ago, Glenn "The Filipino Bomber" Donaire, the reigning interim WBC Latino flyweight champion, will defend his belt against Omar "Lobitos" Soto on March 16, 2012. The fight will be held in Me


Time to let Dwight Howard go!
24 Dec 2011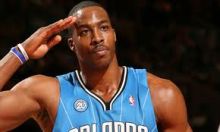 It was unsightly. A 33-point blowout that turned a supposed inter-state rivalry into a bit of a joke as LeBron James and the Heat annihilated the Orlando Magic, 118-85, Sunday night at the American Airlines Arena in Miami. Hor


GLENN DONAIRE TKO's OPPONENT IN COMEBACK BOUT; CAPTURES INTERIM WBC LATINO FLYWEIGHT TITLE
10 Dec 2011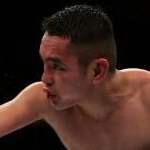 Kissimmee, FL -- Glenn Donaire did a masterful comeback by knocking down his opponent twice in round 2 and then masterfully boxed Puerto Rico's Alex Sanchez from round 3 onwards until the bulky Puerto Rican quit on his stool a


Glenn Donaire 111.8 lbs; Alex Sanchez 112 lbs!
09 Dec 2011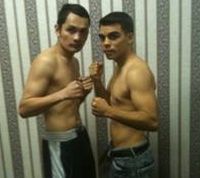 Kissimmee, FL -- Glenn "The Filipino Bomber" Donaire weighed 111.8 lbs while Alex Sanchez of Puerto Rico was over by 3/4 lb when he stepped the scales on the first try. Sanchez was given 2 hours to reduce but he wa


GLENN DONAIRE RETURNS ON DEC. 9
05 Dec 2011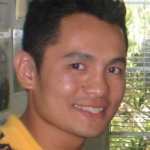 Glenn Donaire. BIBLE BELT, DOWN SOUTH – BREAKING NEWS! Glenn Donaire the former NABA / WBO NABO flyweight champion will be back in the ring this coming Friday, Dec. 9, against Alex Sanchez of Ponce, Puerto Rico.


DECEIVING FIGHT!
15 Nov 2011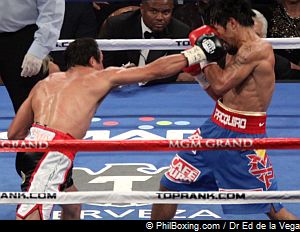 Bible Belt, Down South – Don't be deceived that Marquez exposed The Pacman. That fight is just a back to back to back mirror of the first two fights. Marquez is just a brilliant boxer/brawler whom Manny can't kill like the


ROACH ON CHAVEZ, JR, MARQUEZ, MAYWEATHER, MARTINEZ, HOPKINS, ATLAS AND MORE
04 Jun 2011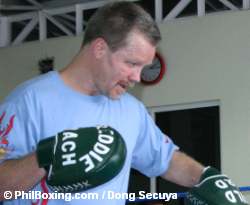 SOUTH CAROLINA, USA – Lots of people judged Julio Cesar Chavez Jr. to be the most pampered boxer in this generation. After over 30 fights he was still fighting bums, trisikad drivers, fighters with double digits in losing colu


Batang Mandaue and Filipino Bomber… The Quest Continues!
13 Mar 2011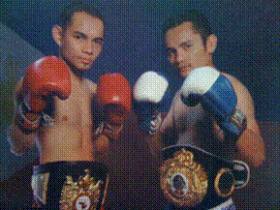 East Coast – In an interview with Batang Mandaue yesterday that lasted 1hr 41min. He told me that he accepted a date in the ring with Wisanu Kokietgym of Thailand. The fight will be in Thailand, June 3, for the WBA Int


MASYADORS IN VEGAS: DONAIRE JR. VS. MONTIEL!
19 Feb 2011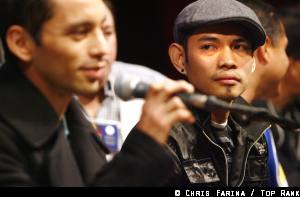 East Coast, USA – The American way of betting according to Bodog.com, the challenger Donaire Jr. is -220 while the champion Montiel is +180. In other words, if you bet for the champion your hard earned $100 will