There are 227 articles attributed to this author.
Displaying articles 201 to 210.
Arizona Boxing News & Notes With Don Smith: Ten Count Salute and Santiago Victory Highlight Iron Boy 9 Show
27 Sep 2013
Boxing Fans, A near capacity crowd gathered at the Celebrity Theater in Phoenix,Arizona on Saturday, September 21 to watch championship boxing and bid a poignant and emotional goodbye to fallen boxing hero and community friend, Alexis Urbina. At least three Arizona fighters acknowledged t


Retired Judge Volunteers Reward for Urbina Case
18 Sep 2013
My fellow colleagues and boxing fans Retired Judge Carlos Mendoza (602-446-2558) is offering a $5,000.00 reward for information leading to the arrest and conviction of person(s) responsible for the brutal murder of 17 year old amateur boxer Alexis Urbina who was found unconscious on the floor of


Arizona Boxing News & Notes With Don Smith: Urbina Services Set, Alvarez Vs. Mayweather & Beltran Draw
13 Sep 2013
Boxing Fans, Funeral & Memorial services for 17 year old National Amateur Boxing Champion Alexis Urbina are set for Friday 9/13 and Saturday 9/14. Alexis was beaten to death on Tuesday 9/3 at his home in Phoenix, Arizona. The coward(s) responsible for this senseless act of violence remain at lar


Arizona Boxing News & Notes With Don Smith: Community Mourns Urbina Death, Arreola: "If I Don't Beat Mitchell, It's Over"
07 Sep 2013
Boxing Fans, Breaking News: The Arizona boxing community and USA Boxing Arizona is mourning the tragic death of 17 year old boxing sensation Alexis Urbina who passed on Thursday, September 5, 2013 at Banner Good Samaritan Hospital in Phoenix, Arizona. On Tuesday, according to friends of the 2


Arizona Boxing News & Notes With Don Smith: Beltran Fans May have to Scramble to Watch, Rumble in the Desert & More!
30 Aug 2013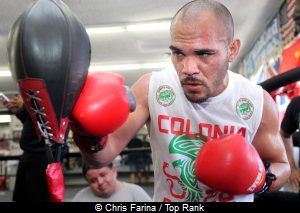 Beltran. Boxing Fans, Arizona Boxing Fans wanting to watch the Saturday, September 7 WBO Lightweight Championship tussle between challenger Ray Beltran and reigning champion Ricky Burns can watch the contest over


Arizona Boxing News & Notes With Don Smith: Chris Arreola, Josesito Lopez, Rico Hoye & Much More
18 Aug 2013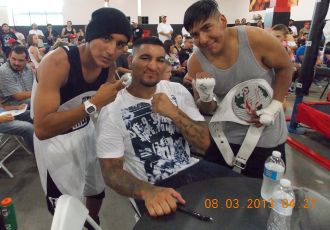 Boxing Fans, Chris Arreola and Josecito Lopez rented a home in Scottsdale, Arizona at the end of July to accommodate them while they prepared for their respective bouts on the September 7 Showtime Televised Boxing Card.


Arizona Boxing News & Notes With Don Smith: Vaca Shines, Challenge Issued, Red Nation Warriors Boxing & More
02 Aug 2013
Boxing Fans, A near capacity crowd attended the Iron Boy 8 boxing show at the Celebrity Theatre in Phoenix on July 20 despite sweltering heat and a monsoon threat that hit Central Phoenix shortly after the conclusion of the 10 fight program. The star of the evening was highly regarded 18 year ol


Offer On The Table, Waiting For Adam Trupish
31 Jul 2013
KO Boxing and Fan Base Promotions have offered a winner take all purse for Light Middleweights Janks Trotter (7-1-1) and Adam Trupish (11-1) to fight in Edmonton, Alberta Canada on Friday, September 13 at the Shaw Conference Center. Trotter agreed to the proposal immediately while Trupish has fai


Arizona Boxing News & Notes With Don Smith: Olivares Questioned, Iron Boy 8 & Much More
20 Jul 2013
Boxing Fans, Sorry to report, my original column was gobbled up by a monsoon sized computer glitch. It ate every last word and didn't apologize. When that happens, I panic and began again, swearing that the effort I lost was Pulitzer Prize worthy and also vowing to retreat to the wine cell


Arizona Boxing News & Notes With Don Smith: Curtis Cokes, Mayweather, Alvarez, Beltran & Iron Boy 8
30 Jun 2013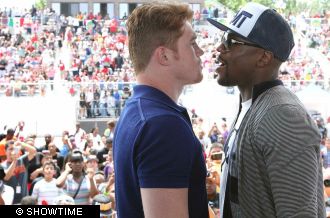 Boxing Fans, Former world welterweight boxing champion Curtis Cokes celebrated his 76 birthday on Saturday June 15 while working the Mikey Garcia vs. Juan Manuel Lopez 12 round title fight in Dallas. Reportedl