There are 86 articles attributed to this author.
Displaying articles 1 to 10.
NBA -- Warriors blast past the Trail Blazers 118 - 106, take a 1 - 0 series lead
03 May 2016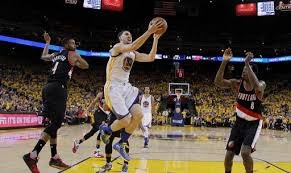 OAKLAND ​-- ​The ​Golden State Warriors ​opened Game 1 o the Western Conference semifinals by playing stifling defense that held the Portland Trail Blazers to 23 percent from the field. Without


NBA -- Warriors ​rebounds ​from ​rare ​home loss​, beat Blazers, 136-111​
05 Apr 2016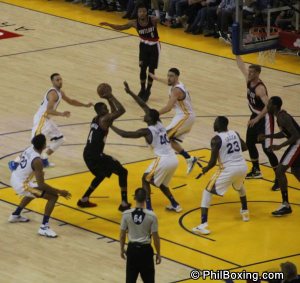 OAKLAND - After a disappointing first home loss against the ​Boston ​Celtics last Friday, Draymond Green and the Golden State Warriors bounced back in style ​and won their 69th game of the season.


NBA -- Warriors' historic magic number down to 7 games
29 Mar 2016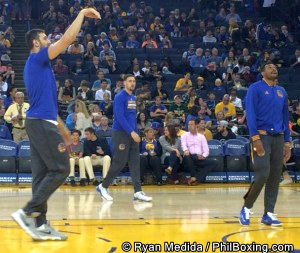 OAKLAND --- After beating the game but overwhelmed Philadelphia 76ers, 117-105, on Sunday night at the Oracle Arena, the defending champions Golden State Warriors are inching much closer to history. With a 66-7 rec


NBA -- Moses Malone dead at 60
14 Sep 2015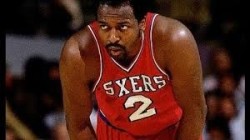 SAN FRANCISCO -- Weeks after the passing of the great Daryl "Chocoloate Thunder" Dawkins, the NBA has lost another legend. Moses Malone, a 12-time All-Star who anchored the Philadelphia 76ers' 1983 championship run in 1983, w


NBA Playoffs - Warriors clinch Finals berth, duel with Cavs for title
29 May 2015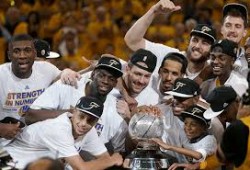 OAKLAND -- The Golden State Warriors are back in the NBA Finals after 40 long years. The torturous, four-decade wait ended on Wednesday night (Thursday AM in Manila) after the Golden State Warriors eliminated the Houston R


NBA Playoffs -- Steph Curry showing MVP stuff
23 May 2015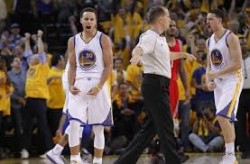 OAKLAND -- If there has ever been a doubt as to who is the NBA's MVP this season, Stephen Curry is erasing all the doubts in the ongoing NBA playoffs. Through 12 postseason games thus far, the 6-foot-3, 190-pound Cu


NBA Playoffs -- Warriors wallop Grizzlies, 98-78, snatch 3-2 series lead
15 May 2015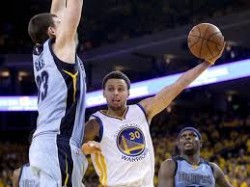 OAKLAND -- It was just few days ago when the Golden State Warriors appeared to be done following Memphis Grizzlies' dominant games 2 and 3 of their Western Conference semifinals. Panic was definitely felt here in


NBA Playoffs -- Warriors cruise past Grizzlies in Game 1, 101 to 86
05 May 2015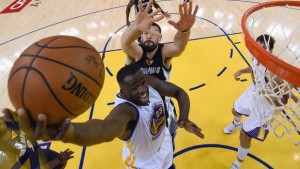 OAKLAND -- The highly anticipated Western Conference semifinals match-up between the Golden State Warriors and the Memphis Grizzlies, two powerhouses with varying styles, went underway on Sunday at the Oracle Arena i


NBA -- Warriors close historic season with 67 wins
16 Apr 2015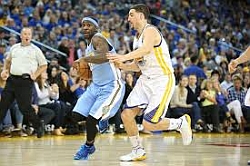 OAKLAND -- The Golden State Warriors capped their franchise-best regular season with a 133-126 victory over the Denver Nuggets at the Oracle Arena on Wednesday night. With their 67-15 record, the Warriors own home


NBA -- Warriors clinch first Pacific Division title in 39 years
26 Mar 2015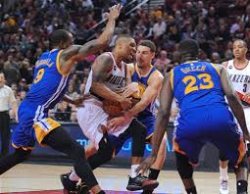 SAN FRANCISCO -- A season full of highlights just got better for the Golden State Warriors. Steph Curry sizzled with 33 points and 10 assists, Andre Iguodola had 21 off the bench while Klay Thompson added 16 and the