There are 61 articles attributed to this author.
Displaying articles 1 to 10.
BRUNO ESCALANTE IMPRESSIVE IN 1ST ROUND KNOCKOUT WIN
02 Mar 2014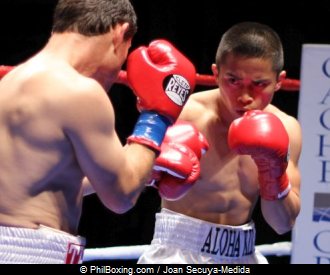 28 of February 2014, Redwood City, CA -- Emerging young fighter who is originally from Sibonga, Cebu, Philippines and now making the Bay Area his home, Bruno Escalante (12-1-1, 6 KO's) showed an exciting brand of boxing w


NBA -- Warriors snap Rockets' 8-game streak
22 Feb 2014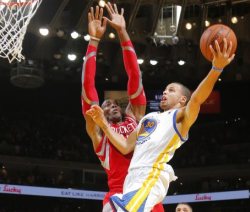 SAN FRANCISCO -- Stephen Curry's lay-up with 3.2 seconds left in regulation gave the Golden State Warriors a new lease on life, beating the Houston Rockets, 102-99, Thursday night. Curry finished with 25 and six a


NBA -- Warriors maul Sixers behind Speights' 32 points
12 Feb 2014
SAN FRANCISCO -- Barely a day after being trounced the Los Angeles Clippers by 45 points, the Philadelphia Sixers went down big again, this time surrendering to the Golden State Warriors, 123-80. Marreese Speights starred for the Warriors in their Monday night romp at the Oracel Arena in Oakla


NBA -- Splash Brothers score 56 as Warriors wallop Bulls
08 Feb 2014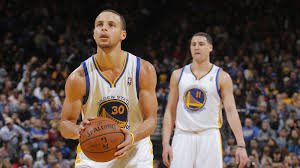 SAN FRANCISCO -- The Splash Brothers -- Steph Curry and Kyle Thompson -- combined for 56 points and the Golden State Warriors rallied from an early 13-point deficit to beat the Chicago Bulls Thursday night. Curry fi


NBA -- Foye's 3 sinks Clippers in Denver
05 Feb 2014
SAN FRANCISCO -- Randy Foye drilled a 30-foot 3 as time expired and the Denver Nuggets squeaked past the visiting Los Angeles Clippers, 116-115, Monday night at the Pepsi Center. Foye's heroics came after Matt Barnes sank a 3 that gave the Clippers a 115-113 lead with 6.2 seconds to go.


NBA -- Wizards stun Warriors at Oracle Arena
30 Jan 2014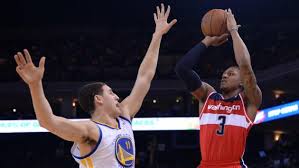 SAN FRANCISCO -- After stringing together 10 straight wins last December, the Golden State Warriors are slipping, losing six of their last nine games to fall to 27-19 in the overall standings. The Warriors fell to the


NBA -- Wade-less Heat handle Lakers
25 Jan 2014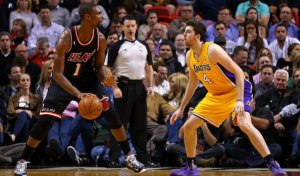 SAN FRANCISCO -- Without Dwyane Wade for the fourth straight game, the two-time defending champions Miami Heat held off a late rally to beat the Los Angeles Lakers at the American Airlines Arena Thursday night. Chris B


NBA -- Warriors get over Thunder, dump Pelicans, 97-87
20 Jan 2014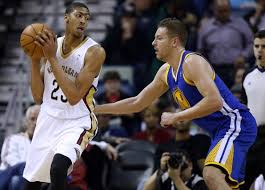 SAN FRANCISCO -- Barely 24 hours after Kevin Durant rained 54 points on them in a 127-121 loss to the Oklahoma City Thunder, the Golden State Warriors went right back on track Saturday night at the New Orleans Arena.


NBA -- Gasol's return sparks Grizzlies over Thunder
16 Jan 2014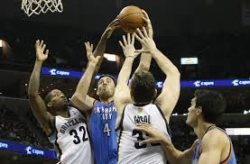 SAN FRANCISCO -- Seven weeks after being sidelined by an MCL sprain, center Marc Gasol returned to the line-up Tuesday night and helped the Memphis Grizzlies score a season-high matching three games in a row. Gas


NBA -- Foye nails six 3s as Nuggets rough up Thunder
11 Jan 2014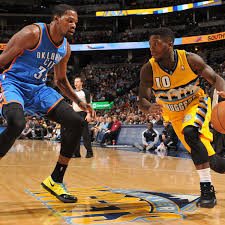 SAN FRANCISCO -- Randy Foye went ballistic from beyond the arc, hitting 6-of-9 threes to lift the Denver Nuggets to an easy romp over the visiting Oklahoma City Thunder Thursday night at the Pepsi Center. Evan F