There are 185 articles attributed to this author.
Displaying articles 71 to 80.
IS MAYWEATHER-MAIDANA WORTH WATCHING?
04 May 2014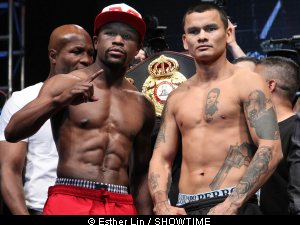 Sports can readily identify the best athletes today without much contention: Ronaldo in soccer, Woods in golf, Shihoura in swimming, James/Durant in NBA, Tulowitzki in MLB, Federer in tennis. But in boxing, who c


THE SILENT MAJORITY, JERKS, BOYCOTT AND MAYWEATHER
03 May 2014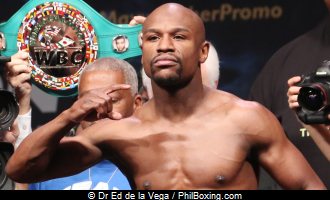 Floyd's dumping of his fiancée ahead of the "Mayweather vs. Maidana" must not be in any way connected to his intent to "magnify" the said show for promotional purposes by creating a stir or controversy about himse


WHY FLOYD MAYWEATHER ISN'T FIGHTING THE BOXERS WE WANT HIM TO FIGHT?
26 Apr 2014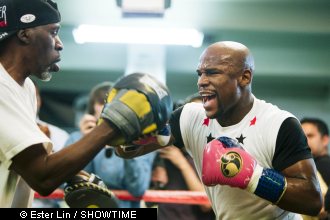 He's at ease dodging competition for the basic reason that, whoever he handpicks as an opponent, there are those who pay to watch his fights enough to make him richer every time, by several millions of U.S. d


HOPKINS A WONDER TO WATCH; THE HALF-SOLVED "MAYWEATHER VS. PACQUIAO"
19 Apr 2014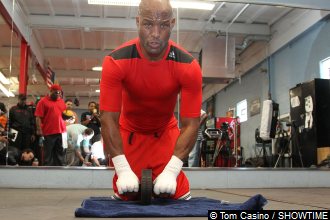 When a boxer or athlete runs out of gas during a competition, it's almost always like reaching the point of surrender for the same boxer or athlete (not the "apostates"). Stamina is crucial in athletics, and in life.


WHAT'S OBVIOUS IN PACQUIAO-BRADLEY 2?
14 Apr 2014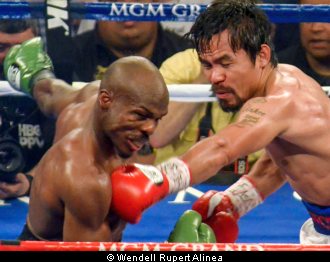 The "Pacquiao-Bradley II" yesterday showed me only two things when I watched it on replay this morning. Let me share them with you as I quickly make this piece to briefly dissect what happened in the "show." One is Fr


PROTEST OVER "PACQUIAO-BRADLEY" AND "MAYWEATHER-MAIDANA"
12 Apr 2014
The bottom line is the Pay-Per-View numbers of the "fights." And the question is: Will Manny Pacquiao and Money Mayweather finally be convinced or compelled to fight each other next as a result of the "Pacquiao-Bradley" and "Mayweather-Maidana"? Don't succumb to the hype, neither be swayed by bl


THE PEOPLE AND DEMOCRACY IN BOXING
30 Mar 2014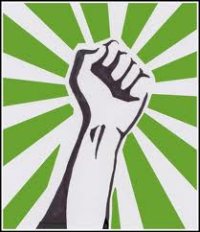 What liberated people would ignore an injustice, gladly bear its yoke and willingly suffer its injuries by doing nothing? If scoundrels think they are free to do what they're doing in defiance of reason and what is right, ca


CROOKEDNESS IN BOXING: SOLUTION TO A WAYWARD SPORT
15 Mar 2014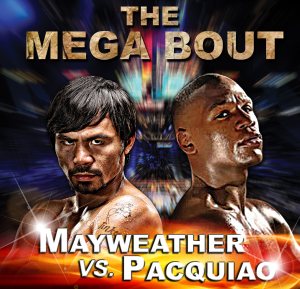 Boxing prides itself to have in its fold the highest paid athlete in the world today but, oh, at the expense of everything that is right about prizefighting as a sound and genuinely robust sport. In the sense that boxi


MAYWEATHER CONTINUES TO TOY THE WORLD AND BOXING
01 Mar 2014
It's final, on May 3 at the MGM Grand or Barclay's Center, square pegs in a round hole will stage a fight that the sport doesn't warrant and the fans don't crave, rather the people detest in light of the "Mayweather vs. Pacquiao." By picking Marcos Maidana over another undeserving boxer Amir Kha


CANELO'S PERFECT VALENTINE AND HIS DATE WITH ALFREDO ON MARCH 8
15 Feb 2014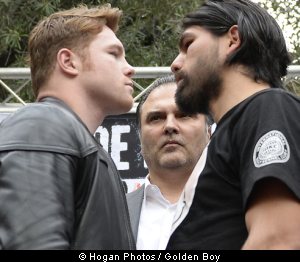 Love is magical such that it makes living beautiful like no other. Or love is the place to start life all over again. But contrary to what most people think of love, it is not always about being near or physically i