There are 16,080 articles attributed to this author.
Displaying articles 81 to 90.
Daniel Baiz Victorious With Dominating Unanimous Decision
28 Oct 2018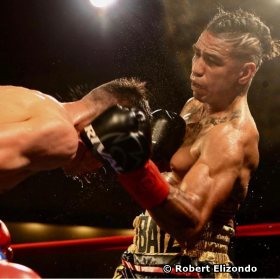 SAN ANTONIO, TX (October 27, 2018) - Tonight at the San Antonio Shrine Auditorium, Daniel "Da Beast" Baiz, who is managed by Greg Hannley of Prince Ranch Boxing, improved to (13-1, 5 KOs) with a dominating 4-round unanimous de


WEIGHTS FROM MANILA: PETALCORIN 108 LBS, ALVARADO 107 LBS
28 Oct 2018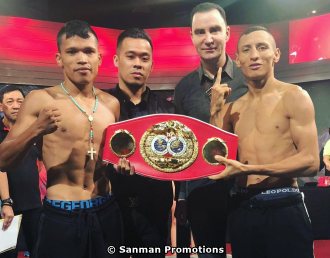 The fight between IBF Light Flyweight Champion Randy Petalcorin (W28 KO22 L2 D1) against Felix Alvarado (W33 KO29 L2 D0) is all set to go as both fighters made weight today at the ESPN 5 Media Center in Manila. P


Split-T Management undefeated prospects Stephan Shaw and Isiah Jones in action TONIGHT!!
28 Oct 2018
NEW YORK (October 26, 2018) --Tonight, two highly regarded undefeated prospects from boxing's deepest management stable, Split-T Management, will be in action as undefeated heavyweight Stephan Shaw (9-0, 6 KOs) takes on Aaron Chaves in an eight-round bout in New Orleans. While in Gary Indiana, for


OSCAR DE LA HOYA PRESENTS NEW, STATE-OF-THE-ART BOXING EQUIPMENT TO SO CAL BOXING ACADEMY WHILE JOINED BY DOZENS OF YOUTH IN ATTENDANCE
28 Oct 2018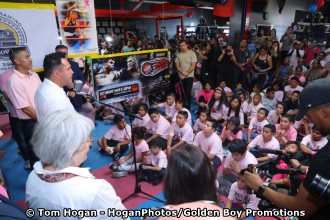 LOS ANGELES (Oct. 26, 2018): Olympic gold medalist and 10-time world champion Oscar De La Hoya presented new, state-of-the-art boxing equipment valued at thousands of dollars today at So Cal Boxing Academy. De La Hoya w


Women's Superstar Claressa Shields to Defend IBF and WBA Middleweight Championships and Looks to Add WBC Belt Against Scotland's Hannah Rankin
27 Oct 2018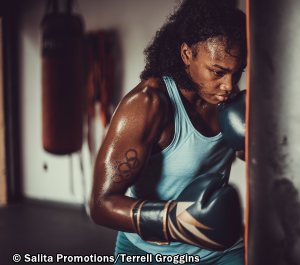 Live on DAZN on November 17 On Saturday, November 17, at the Kansas Star Arena and Casino in Mulvane, Kansas, superstar two-division women's world champion Claressa Shields of Flint, Michigan, will defend her IBF an


Iwata inks with All Star Boxing/Teiken ready to invade the US market
27 Oct 2018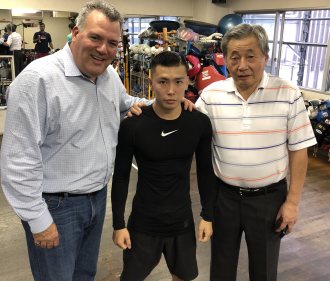 Miami, FL: 22 year old prospect Shokichi Iwata of Tokyo, Japan has signed a multiyear promotional agreement with All Star Boxing, Inc and Teiken Promotions and will jump start his career in the Unites States.


CHUCK LIDDELL VS. TITO ORTIZ 3 UNDERCARD TO FEATURE EXCITING PROSPECTS AND CONTENDERS FROM AROUND THE NATION
27 Oct 2018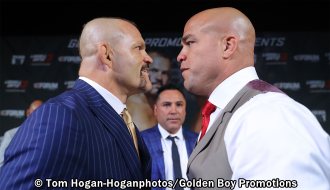 SATURDAY, NOV. 24 AT LOS ANGELES' 'FABULOUS' FORUM AND TELEVISED LIVE ON PAY-PER-VIEW Tickets Still on Sale! LOS ANGELES (Oct. 26, 2018): Mixed martial arts fans will be treated to a full night of action as s


Undefeated Bantamweight Prospect Eros Correa Makes Weight For Tijuana Showdown
27 Oct 2018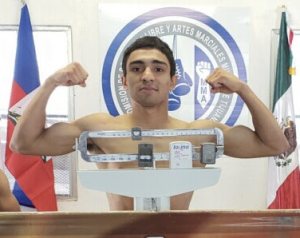 TIJUANA, MX (October 26, 2018) - 2012 U.S. Olympic alternate and bantamweight prospect, Eros Correa (2-0, 2 KO), made weight for his upcoming bout in Tijuana, Mexico, taking place this Saturday, October 27, 2017 at the Gimn


Daniel Baiz Makes Weight for San Antonio Clash
27 Oct 2018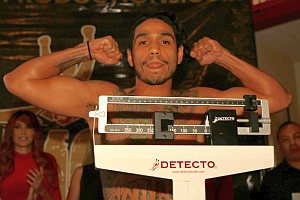 SAN ANTONIO, TX (October 26, 2018) - Daniel "Da Beast" Baiz (12-1, 5 KOs), who is managed by Greg Hannley of Prince Ranch Boxing, made weight for his upcoming bout taking place this Saturday at the San Antonio Shrine Auditor


No Limit Mindset LLC. Fighters on a roll
27 Oct 2018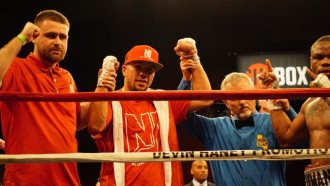 Kilic shines on ShoBox; Menard primes for big opportunity, and Henderson looking for step-up bout in December Beverly Hills, Calif. (October 26, 2018) - As the season change, and the Fall season is upon us, Three members o