There are 15,929 articles attributed to this author.
Displaying articles 61 to 70.
Nate Diaz, 'Khabib Fights Like a Bitch,' I Hope They Both Lose
05 Oct 2018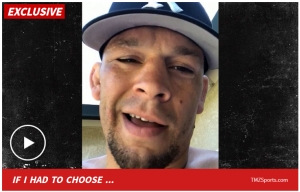 TMZ SPORTS -- Nate Diaz is rooting for Khabib and Conor to BOTH lose at UFC 229 -- saying he already "slapped the sh*t out of both of 'em" ... and neither one deserves to be champ! That said, Nate also believes Co


Hard Hitting Fighters to be on Display at The 2300 Arena in Philadelphia
05 Oct 2018
Cuevas, Pizarro, Rosa, Tapia and Sinakin tops Hard Hitting Promotions roster of fighters on Saturday night WEIGH IN TOMORROW AT SHERATON SUITES PHILADELPHIA AIRPORT AT 5 PM ET Philadelphia, PA (October 4, 2018) - A Fab-Five of fighters from the Hard Hitting Promotions stable will be in action


VIDEO: DEVIN HANEY SHOWS POISE BEYOND HIS YEARS IN THE SHOWTIME SPORTS® DIGITAL FRANCHISE, FIGHT NIGHT
05 Oct 2018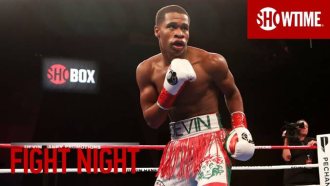 WHAT: In the latest installment of the original digital franchise FIGHT NIGHT, SHOWTIME Sports® takes viewers behind the scenes of last Friday's ShoBox: The New Generation main event, as 19-year-old Devin Haney scored an impressiv


October 20: Michael Conlan Set for Las Vegas Debut
05 Oct 2018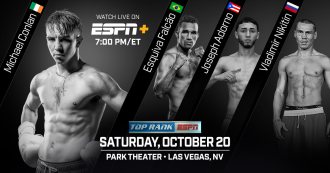 LAS VEGAS (Oct. 4, 2018) - The Conlan Revolution has hit New York City, Australia, Arizona, Chicago, and Northern Ireland. Now, Michael "Mick" Conlan is set to conquer the Las Vegas Strip. Conlan, the talk of the 2016 Summer Olympi


DON KING & BERMANE STIVERNE FILE SUIT AGAINST ALEXANDER POVETKIN & WORLD OF BOXING IN COURT OF ARBITRATION FOR SPORT
05 Oct 2018
Deerfield Beach, FL (October 4, 2018)—Hall of Fame boxing promoter Don King and heavyweight contender Bermane Stiverne hoped to settle things in the ring in Yekaterinburg, Russia with former Olympic gold medalist Alexander Povetkin on Dec. 17, 2016. Stiverne never got the opportunity in the WBC h


Straight outta Toledo: Otha Jones III competing at Summer Youth Olympic Games Buenos Aires 2018
04 Oct 2018
COLORADO SPRINGS, Colo. (October 4, 2018) - Two-time USA National Champion Otha Jones III is heading to Argentina tomorrow to make a statement at the Summer Youth Olympic Games Buenos Aires, October 6-18 in Parque Polidesportivo Roca. Jones is from the new home of amateur boxing champions, Toled


Another fight night in New Orleans: Regis 'Rougarou' Prograis vs. England's Terry Flanagan
04 Oct 2018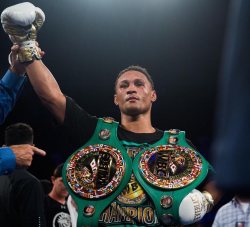 After Regis Prograis' successful defense of his WBA interim super lightweight championship at Lakefront Arena in July, he emphasized his desire to continue bringing big-time boxing back to his native New Orleans. He's get


DEONTAY WILDER vs. TYSON FURY LOS ANGELES PRESS CONFERENCE QUOTES, PHOTOS & VIDEOS
04 Oct 2018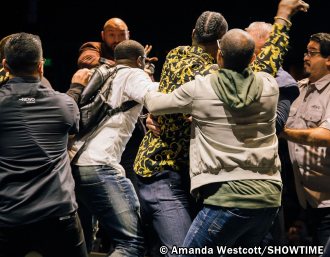 Tempers Flare In Final Stop Of International Press Tour As Heavyweight Giants Clash for Third Straight Day Ahead of December 1 WBC Heavyweight World Championship LIVE on SHOWTIME PPV ® "When I knock him out I ca


SHOWTIME SPORTS® TO CHRONICLE DEONTAY WILDER VS. TYSON FURY HEAVYWEIGHT BLOCKBUSTER WITH EMMY® AWARD-WINNING SERIES ALL ACCESS
04 Oct 2018



Three-Part ALL ACCESS: WILDER VS. FURY Premieres Saturday, November 17 on SHOWTIME® Plus, ALL ACCESS DAILY To Go Behind-The-Scenes Throughout Fight Week Via SHOWTIME Sports Social Media Platforms NEW YORK – October 3,


OSCAR NEGRETE VS. JOSHUA FRANCO OFFICIAL WEIGHTS
04 Oct 2018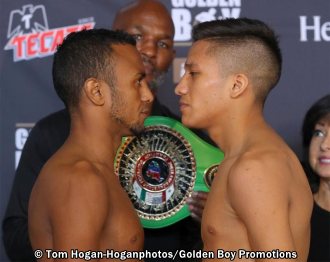 Negrete vs. Francois a 10-round fight for the NABF Bantamweight Title presented by Golden Boy Promotions. The event is sponsored by Tecate, "THE OFFICIAL BEER OF BOXING," Hennessy, "Never Stop, Never Settle,"and Venom.