There are 15,925 articles attributed to this author.
Displaying articles 41 to 50.
Sullivan Barrera vs. Seanie Monaghan Headlines at The Aviator Sports and Events Center in Brooklyn, NY Saturday, November 3
09 Oct 2018



Totowa, NJ - October 8, 2018 - Former WBC International Light Heavyweight world champion Sullivan Barrera (21-2, 14 KOs) returns to the ring to regain his standing as one of the world's top light heavyweights. Barrera f


Houston featherweight Roma Martinez represents next wave of USA female boxers
09 Oct 2018
Out to make statement at Summer Youth Olympic Games Buenos Aires 2018 Oct. 6-18 in Argentina COLORADO SPRINGS, Colo. (October 8, 2018) -- Houston featherweight Roma Martinez, who represents the next wave of USA female boxers, is currently In Argentina to make a statement at the ongoing Summer


Terence Crawford: Conference Call Transcript
09 Oct 2018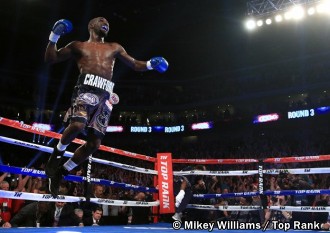 Crawford to defend WBO welterweight title against Jose Benavidez Jr. at the CHI Health Center Omaha Saturday, October 13 and televised LIVE by ESPN and ESPN Deportes at 10:30 p.m. ET / 7:30 p.m. PT Evan Korn


2018 Eastern Elite Qualifier & Regional Open Championships has Largest Turnout in USA Boxing History
09 Oct 2018
CHATTANOOGA, Tenn. (Oct. 8, 2018) -- The 2018 Eastern Elite Qualifier & Regional Open Championships in Chattanooga, Tenn. will begin tonight with the largest turnout in USA Boxing national tournament history. After check-in and general weigh-in, a total of 834 boxers and 550 boxers will take pa


TMZ SPORTS EXCLUSIVE: Floyd Mayweather's 'Deadly Serious' About Pacquiao Fight, Says Showtime Exec
08 Oct 2018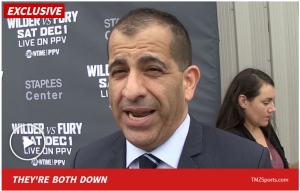 TMZ SPORTS -- How serious is Floyd Mayweather about running it back one mo' gin with Manny Pacquiao? According to the top guy at Showtime Sports, he's serious as a heart attack ... as in DEADLY SERIOUS. TMZ S


Deontay Wilder Says He Could Make $100 Million For Tyson Fury Fight
08 Oct 2018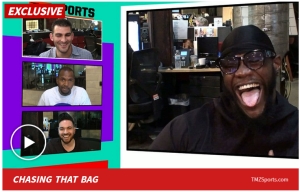 TMZ SPORTS -- If you thought Deontay Wilder was taking a shot in the wallet by fighting Tyson Fury and not Anthony Joshua, bite your tongue. 'Cause Wilder says he could make SERIOUS money his next time in the ring. Like $1


Three of Split-T Management's finest in action on Saturday night
07 Oct 2018
NEW YORK (October 6, 2018) --Three elite fighters from the Split-T Management stable will be in action on Saturday night. At The Davis Arena in Louisville, Kentucky, Welterweight Janelson Bocachica (11-0, 8 KOs) of Detroit takes on 19-fight veteran Juan Rodriguez of Haymarket, Virginia in a six-r


Heavyweight KO Artist Sam Shewmaker Has Eyes Set on US Heavyweight Title
07 Oct 2018
Less than four months ago heavy handed pugilist Sam Shewmaker emerged onto the bare knuckle fight scene and recorded what many consider to be the knockout of the year in his win over Eric Prindle at BKFC 1: The Beginning, advancing him to the semifinals of the eight man heavyweight tournament.


VICTOR CONTE UPDATE ON BJ SAUNDERS' POSITIVE VADA DRUG TEST AHEAD OF ANDRADE FIGHT
07 Oct 2018
SAN CARLOS, CA (October 5, 2019) - After Billy Joe Saunders (26-0, 12 KOs) tested positive for the banned substance, Oxilofrine, a powerful stimulant from the amphetamine family, his WBO middleweight world title fight with Demetrius Andrade (25-0, 16 KOs) became in jeopardy. Since the news broke


WEIGHTS FROM JAPAN: SHIRO - 107.75 LBS; MELINDO - 107.5 LBS. (PHOTOS)
06 Oct 2018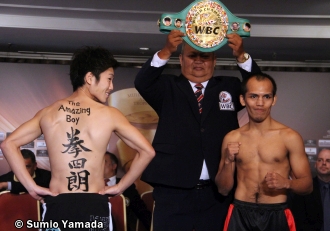 Photos by Sumio Yamada. WBC light flyweight champion Ken Shiro of Japan scaled at 107.75 lbs while his Filipino challenger Milan Melindo weighed in at 107.5 lbs on the second try. According to reports from Japan, Mel