There are 14,120 articles attributed to this author.
Displaying articles 21 to 30.
DE LA HOYA OPENS AS A SLIGHT FAVORITE AGAINST MCGREGOR
15 Nov 2017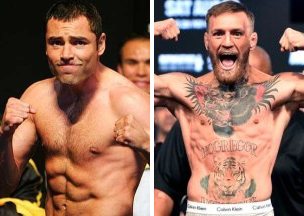 44-year-old retired boxing legend Oscar de la Hoya perks the boxing and MMA world after he told Golden Boy Radio with Tatoo and the Crew on inaugural show at DashRadio Monday that he was secretly training and calls out


RIP Desmond Hammond
15 Nov 2017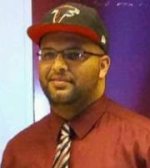 Reading, PA (November 14, 2017) - King's Promotions is deeply saddened at the passing of Desmond Hammond. Hammond of Reading, Pennsylvania passed away on Monday morning at the age of 35. He was at his home and surrounded by his f


DELA TORRE TO FACE EX-OLYMPIAN ON NOV. 18 IN LAS VEGAS
14 Nov 2017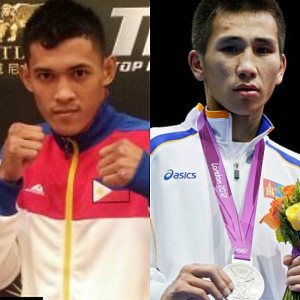 FILIPINO boxer Harmonito "Hammer" dela Torre of Sanman Promotions will be facing 2012 London Olympics silver medalist Tugstsogt "King Tug" Nyambayar on November 18 at the Cosmopolitan in Las Vegas, Nevada, USA. Th


This Week's - 'The Hollywood Beatdown with Tyron Woodley'
14 Nov 2017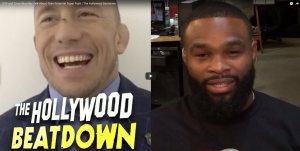 TMZ SPORTS -- Tune-in to this week's episode of 'The Hollywood Beatdown with Tyron Woodley' a weekly show, distributed on TMZ's Facebook & YouTube, and promoted across TMZ's social media platforms, including Twitter, Ins


Jesse Angel Hernandez Cements Himself as a Super Bantamweight Contender with Impressive Unanimous Decision Over Glenn Dezurn
14 Nov 2017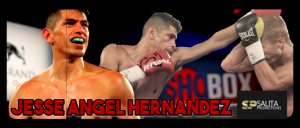 The Fort Worth, Texas, super bantamweight express named Jesse Angel Hernandez continued to pick up momentum last Saturday night, as he took his second consecutive undefeated record away, this time from Baltimore's Glen


Unbeaten Super-Lightweight Blair Cobbs Returns to the Ring Nov 18 in Mississippi
14 Nov 2017
LAS VEGAS, NV (November 13, 2017) - Undefeated super-lightweight prospect, Blair "The Flair" Cobbs (6-0, 5 KOs), who is managed by Prince Ranch Boxing (PRB), is now scheduled to fight on November 18, 2018 at the Fitzgerald's Casino & Hotel in Tunica, Mississippi. Blair, who fights in the southpaw s


Granite Chin invades Granite State "Rumble at The Rim"
14 Nov 2017
Dec. 9 at The Rim in Hampton, N.H. HAMPTON, NH (November 13, 2017) - Granite Chin Promotions invades the Granite State on Saturday, December 9, showcasing some of New England's top professional boxers on the "Rumble at The Rim" card, at The Rim in Hampton, New Hampshire. A portion of the proc


UFC FIGHT NIGHT®SHANGHAI: UFC LEGEND MICHAEL BISPING REPLACES ANDERSON SILVA
13 Nov 2017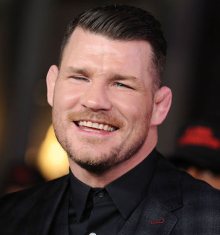 Bisping. UFC FIGHT NIGHT® SHANGHAI: BISPING vs. GASTELUM presented by General Tire is slated for November 25, 2017 at the Mercedes-Benz Arena SHANGHAI, CHINA, 13 NOVEMBER 2017 – UFC®, the world's premier Mixed Martial Arts


UNDEFEATED TASMANIAN LUKE WOODS TO ENHANCE HIS REPUTATION IN THE SUPER8
13 Nov 2017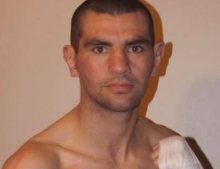 Woods. LUKE WOODS ARGUABLY HAS THE BIGGEST ADVANTAGE and the biggest disadvantage of all eight fighters in the Super8 tournament on November 25 as part of the TGW & Smithy Bring the Big Fights 18 card at Rumours International.


TEAM GABALLO ARRIVES IN HAWAII
13 Nov 2017
UNDEFEATED Reymart "GenSan Assassin" Gaballo and his team had arrived already in Honolulu, Hawaii last Nov. 11 for his long-awaited debut in the US slated on November 15. Gaballo arrived together with his Cuban trainer Moro Fernandez from Miami, Florida while his manager John Ray "JR" Manangquil