There are 15,377 articles attributed to this author.
Displaying articles 91 to 100.
Zurdo vs. Angulo / Saucedo vs. Zappavigna - Weigh-In Results
30 Jun 2018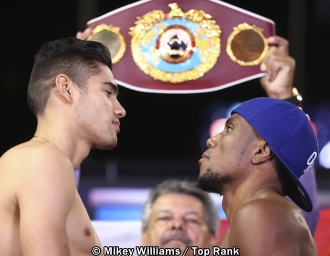 The biggest card to hit The Sooner State in years will feature a local product, Oklahoma City native Alex "El Cholo" Saucedo (27-0, 17 KOs) against Lenny Zappavigna (37-3, 27 KOs) in 10-round junior welterweight bout.


"Slugfest at The Sun" Weights from Connecticut
30 Jun 2018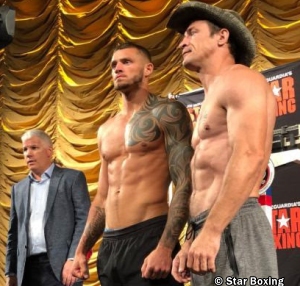 SMITH JR. vs. RUSSELL "SLUGFEST AT THE SUN" AT MOHEGAN SUN (SATURDAY 6/30) UNCASVILLE, CONNECTICUT, June 29, 2018 The entire card for Joe DeGuardia's Star Boxing's, "SLUGFEST at the SUN" weighed in today outsi


Split-T Management Fighter Michael Moore to appear on this season of The Contender
30 Jun 2018
New York, NY (June 29, 2018)-Middleweight Michael Moore will appear on the upcoming season of the Contender. The highly anticipated 12-episode season, from MGM Television and Paramount Television, will premiere on EPIX® on Aug. 24, 2018 at 10 PM ET/PT. Moore of Cleveland, Ohio has a record o


WORLD TITLE LOOMS FOR 19-YEAR OLD DEVIN HANEY NOW RANKED IBF #15
29 Jun 2018
LAS VEGAS, NV (June 29, 2018) - 19-year-old undefeated sensation and USBA Lightweight champion, Devin "The Dream" Haney (19-0, 13 KOs), has captured his second title before age 20, but even more impressive, is his ranking at # 15 by the IBF, meaning a title shot is near. "It means the world to m


'Fight of Champions': 4 World Titles At Stake
29 Jun 2018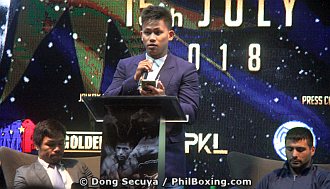 BOXING LEGEND Manny Pacquiao is gunning for one of four world titles at stake against WBA champion Lucas Matthysse in the "Fight of Champions" roadshow that promises to electrify the Axiata Arena on July 15 from start to fi


Oklahoma City Fight Night: Alex Saucedo and Gilberto Ramirez Press Conference Notes & Quotes
29 Jun 2018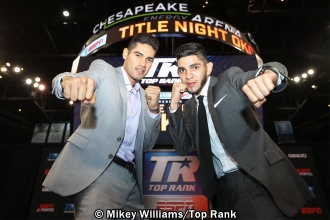 ANDREW 'EL CHANGO' CANCIO TO HEADLINE AUG. 17 EDITION OF GOLDEN BOY BOXING ON ESPN AGAINST TOUGH CONTENDER DARDAN ZENUNAJ
29 Jun 2018
JAPANESE SLUGGER YOSHIHIRO 'CORAZON DE ACERO' KAMEGAI TO MAKE HIGHLY-ANTICIPATED RETURN IN CO-MAIN EVENT Tickets on Sale Friday, June 29, 2018 at 10:00 a.m. PT LOS ANGELES (June 28, 2018): Andrew "El Chango" Cancio (18-4-2, 14 KOs) will return to the ring in a 10-round super featherweight fi


RASHIDI ELLIS VS. ALBERTO MOSQUERA OFFICIAL WEIGHTS
29 Jun 2018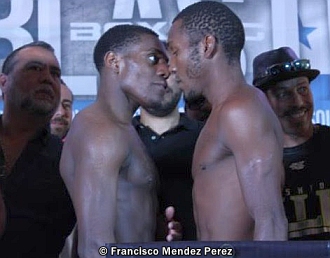 RASHIDI ELLIS VS. ALBERTO MOSQUERA Friday, June 29, 2018 Grand Oasis Cancun Cancun, Quintana Roo, Mexico Ellis vs. Mosquera is a 10-round welterweight fight presented by Golden Boy Promotions in association with


Officials Named for Title Bout Between World Champion Gilberto 'Zurdo' Ramirez and Roamer Alexis Angulo
29 Jun 2018
The World Boxing Organization (WBO) announced the officials for this Saturday, June 30, clash between WBO Super Middleweight Champion Gilberto 'Zurdo' Ramírez, from Mexico, and WBO Latino Champion and eighth ranked at 168 pounds Roamer Alexis Angulo, from Colombia. The bout will take place at th


"Road to M-1: USA" August 11 in Nashville
29 Jun 2018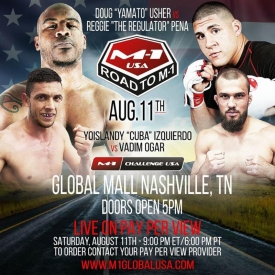 Showcasing the American debut of "The Rage" Worldwide Pay Per View from Music City NASHVILLE, Tenn. (June 28, 2018) - "Road to M-1: USA", presented by M-1 Global USA and Angel Fight Promotions, will be held August