There are 12,247 articles attributed to this author.
Displaying articles 1 to 10.
HORN VS GEORGE GAINS MOMENTUM
07 Dec 2016
THE PROPOSTION OF AN ALL QUEENSLAND SUPERFIGHT between Toowoomba's Kris George and Brisbane's Jeff Horn is gaining momentum. George, the new Commonwealth welterweight champion, has long called the Horn's name - but until recent days the Horney has all but dismissed the challenge of the silencer.


WHO IS MICKY ROMAN?
07 Dec 2016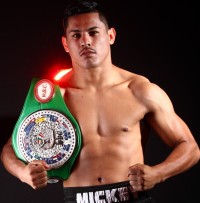 Mexican fighter Luis Miguel "Micky" Román, has always dreamed of being the first world champion in the history of his hometown Ciudad Juárez Chihuahua, which borders with "El Paso" Texas. And now after 17 years of professional car


JERMALL CHARLO & JULIAN WILLIAMS SOUND OFF AS THEY PREPARE FOR MATCHUP OF UNDEFEATED 154-POUND RISING STARS THIS SATURDAY LIVE ON SHOWTIME®
07 Dec 2016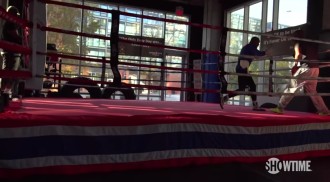 "I'm taking a chance to fight this undefeated nobody, and I'm going to take his head off." – Jermall Charlo "When I win this fight I don't want any excuses." – Julian Williams IBF Junior Middleweight Champion Jerma


CEBU BOXING OFFICIALS ELECT NEW OFFICERS
07 Dec 2016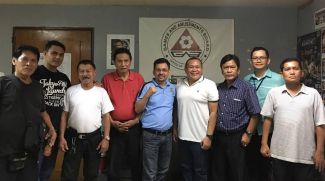 Cebu City - The Professional Boxing Officials of Cebu (PBOC) held an election Tuesday and chose a new set of officers. Elected to lead the group are Edward Ligas as President, Dr. Jose Unabia as Vice President, Edgar Olalo f


David Peralta looking to keep momentum of Guerrero win against Berlin Abreu this Saturday
07 Dec 2016
From the Sands Bethlehem Event Center and LIVE on Ringtv.com Kermit Cintron takes on Rosemberg Gomez and Ronald Ellis battles Oscar Riojas Plus undefeated Chordale Booker and Abraham Nova Bethlehem, PA (December 6,, 2016) - This Saturday night, David Peralta will take on Berlin Abreu in a sch


Split-T Management signs 2016 U.S. Olympian Antonio Vargas to a managerial contract
07 Dec 2016
New York (December 6, 2016) -Split-T Management is pleased to announce the signing of another member of the 2016 United States Olympic Team, Antonio Vargas to a managerial contract.. Vargas of Kissimmee, Florida was the Flyweight representative for the 2016 U.S. Team. "I have known Split-T M


Crawford vs Molina World Championship Fight Week Starts Tomorrow
06 Dec 2016



FIGHTER OF THE YEAR CANDIDATE TERENCE CRAWFORD RETURNS HOME TO OMAHA THIS WEEK TO DEFEND WORLD JR. WELTERWEIGHT TITLES AGAINST NO. 1 CONTENDER JOHN MOLINA, JR.! Saturday, December 10, at CenturyLink Center Omaha Live


Veazey to Conor McGregor: I'll fight you now
06 Dec 2016
Baltimore, MD (December 6, 2016) – There was much talk throughout the boxing world last week when UFC superstar Conor McGregor received a boxing license from the California State Athletic Commission. McGregor, widely considered the best mixed martial artist in the world, has been clamoring for a


BERNARD "THE EXECUTIONER" HOPKINS HONORED BY PHILADELPHIA MAYOR JIM KENNEY TO COMMEMORATE FINAL CAREER FIGHT
06 Dec 2016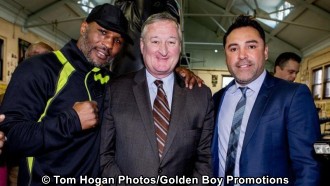 HOPKINS VS. SMITH, JR. SET TO CLASH ON HBO WORLD CHAMPIONSHIP BOXING® FIGHT ON DECEMBER 17 LIVE AT THE "FABULOUS" FORUM PHILADELPHIA (Dec. 5, 2016) Living legend and former two-division world champion Bernard "The E


On the Verge of Boxing Stardom, Menard Ready for Tough Challenge Against Beltran
06 Dec 2016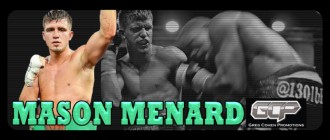 Rayne, Louisiana's "Rock Hard Mighty" Mason Menard (32-1, 24 KOs) knows he's in for a tough challenge when he makes the first defense of his WBO NABO Lightweight Championship against fellow top-10 contender Ray Beltran (31-7-1, 19 KOs)