There are 11,537 articles attributed to this author.
Displaying articles 1 to 10.
The Dwyre Chronicles: "Crawford Adds Title to Become Division King"
25 Jul 2016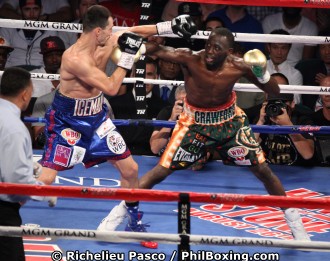 TERENCE CRAWFORD ADDS A TITLE TO BECOME DIVISION KING By: Bill Dwyre * LAS VEGAS – Speed kills. Saturday night, in a big-time boxing arena, in a big-time battle for future fame and riches, a Porsche t


ADAM LOPEZ & ROMAN REYNOSO FIGHT TO A DRAW
24 Jul 2016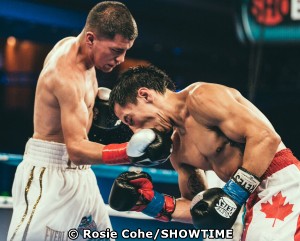 IN MAIN EVENT OF 15th ANNIVERSARY TELECAST OF SHOBOX: THE NEW GENERATION FRIDAY ON SHOWTIME® Catch The Replay This Monday, July 25 At 10 p.m. ET/PT On SHOWTIME EXTREME® MASHANTUCKET, Conn. (July 23, 2016) - With a potent


Orozco steps in to face Wilcox at "Next Generation" July 28
24 Jul 2016
Toronto, Ontario, Canada (July 23, 2016) – Lee Baxter Promotions announced that hard-hitting Juan Orozco will face Steven Wilcox Thursday, July 28 in the eight round main event of the first ever "Next Generation" card at Danforth Music Hall in Toronto, Ontario, Canada. The "Next Generation" figh


Berridge to replace injured Dawson vs. Alvarez
24 Jul 2016
"SHOOTOUT"IN QUEBEC STEVENSON vs. WILLIAMS WBC LIGHT HEAVYWEIGHT WORLD TITLE July 29 airing live on Spike TV from Videotron Centre MONTRÉAL (July 23, 2016) - Undefeated No. 1 light heavyweight contender Eleider "Storm" Alvarez (19-0, 10 KOs) has found a solid boxer to face him on the July 29


WEIGHTS FROM LAS VEGAS: CRAWFORD - 140 LBS., POSTOL - 139.5 LBS.
23 Jul 2016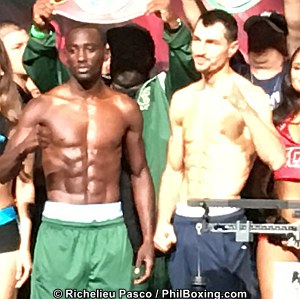 WBO junior welterweight champion Terence Crawford of Omaha, Nebraska weighed in exactly at 140 lbs while WBC junior welterweight champion Victor Postol of Ukraine stepped the scales at 139.5 lbs during the official w


Leo Santa Cruz vs. Carl Frampton Media Conference Call Transcript
23 Jul 2016



Lou DiBella Welcome, everybody, to the Santa Cruz-Frampton telephone call. The event is Saturday, July 30, 2016, on SHOWTIME. The action begins on SHOWTIME at 9:00 p.m. Eastern time; that's 6:00 p.m, Pacific


Team Shumenov petitions WBA to declare purse bid for mandatory title fight vs. Lebedev or strip Lebedev of his world cruiserweight title belt
23 Jul 2016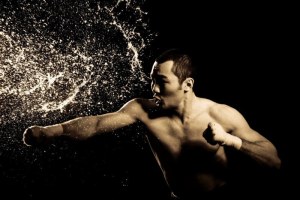 LAS VEGAS (July 22, 2016) - It has been more than a month since World Boxing Association (WBA) world cruiserweight champion Beibut Shumenov (16-2, 10 KOs), based on the much publicized WBA Cruiserweight Tournament rules and reg


Boxing Champ Terence Crawford -- No MMA For Me EVER ... Those Guys Are Too Broke
23 Jul 2016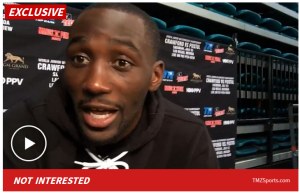 TMZ SPORTS -- WBO junior welterweight champ Terence Crawford says there's one reason he'd never try his hand (or feet) at MMA ... the almighty dollar ... 'cause according to TC there's just not enough money in grappling.


Flavor Flav -- I Manage Muhammad Ali's Grandson ... He's a Boxer, BOYYYYY! (VIDEO)
23 Jul 2016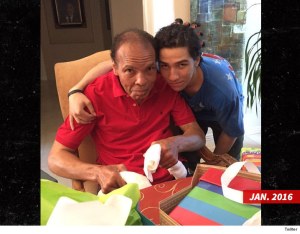 TMZ SPORTS -- Muhammad Ali's legacy ... is in Flavor Flav's hands -- 'cause the rap legend tells TMZ Sports he's managing Muhammad's grandson's boxing career! Flav was out in Bev Hills with TV pitchman Ron Popeil


Introducing former amateur standout Kevin Asmat
23 Jul 2016
Asmat makes pro debut tonight against Dallas Holden at The Claridge in Atlantic City Anthony "Juice" Young to headline against Eduardo Flores Plus Thomas "Cornflake" LaManna in the co-feature against Engleberto Valenzuela Dan Pasciolla battles Dante Selby in Heavyweight rematch Also se