There are 14,703 articles attributed to this author.
Displaying articles 1 to 10.
TONIGHT: St. Patrick's Day Clash 3 O'Connor vs. Claggett in Boston
18 Mar 2018
St. Patrick's Day Clash 3 Danny O'Connor vs. Steve Claggett Airing live tonight on PPV and Super Channel in Canada Plus, special Dropkick Murphys live acoustic set BOSTON (March 17, 2018) - Tonight's "St. Patrick's Day Clash 3" will air on pay-per-view, as well as on Super Channel in Canada,


AZKALS TEAM MANAGER DAN PALAMI CALLS FOR SUPPORT FOR CRUCIAL ASIAN CUP QUALIFIER MATCH
17 Mar 2018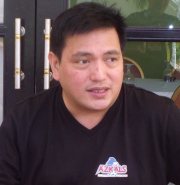 Palami. 17 March 2018 – Manila, Philippines: Philippine Azkals Team Manager Dan Palami calls for support for the upcoming matches of the national team, taking place on March 22 and March 27, 2018, to be held at the Ri


UFC's Mackenzie Dern: My Hype Train's Gonna Steamroll Amanda Cooper, 'Choo Choo!'
17 Mar 2018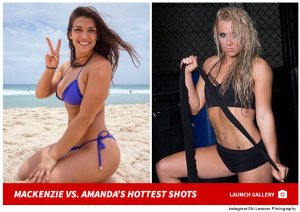 TMZ SPORTS -- Mackenzie Dern is clappin' back at her next opponent for saying she's gonna "derail her hype train" ... saying Amanda Cooper doesn't stand a chance when they scrap at UFC 224. "That's good, I hope


SENIESA 'SUPER BAD' ESTRADA SHINES IN UNANIMOUS DECISION WIN AGAINST SONIA OSORIO
17 Mar 2018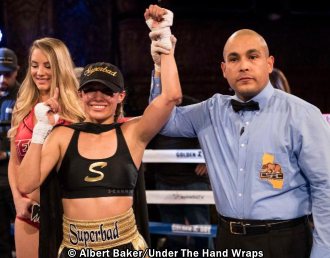 LOS ANGELES (March 16, 2018): Seniesa "Super Bad" Estrada (12-0, 2 KOs) successfully made her debut under the Golden Boy Promotions banner with an impressive eight-round unanimous decision victory against Mexico C


OFFICIAL WEIGHTS FROM BOSTON: Danny O'Connor 139 lbs., Steve Claggett 139 lbs.
17 Mar 2018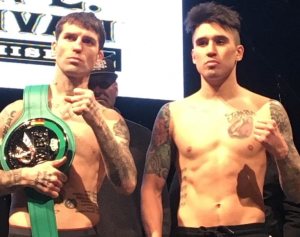 ST. PATRICK'S DAY CLASH 3 DANNY O'CONNOR VS. STEVE CLAGGETT WBC Silver International Junior Welterweight Championship March 17, 2018 * House of Blues * Boston, Massachusetts LIVE ON PPV & SUPER CHANNEL 10 p.m. E


Michael Dutchover 131.3 lbs - Ricardo Lopez 132 lbs
17 Mar 2018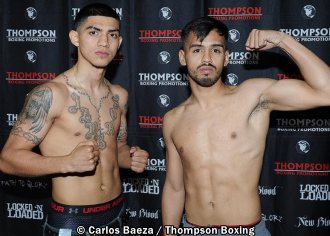 PHILADELPHIA, PENN./ORANGE, Calif. (March 16, 2018)- Rising junior lightweight talent Michael Dutchover (7-0, 5 KOs) measured 131.3 lbs. at Friday's weigh in, while challenger Ricardo Lopez (7-1-2, 6 KOs) topped off at


Ramirez vs. Imam / Conlan vs. Berna / Gvozdyk vs. Amar Weigh-In Results
17 Mar 2018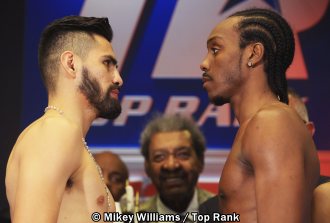 Ramirez-Imam, Conlan-Bernard, the interim WBC Light Heavyweight world title bout between Oleksandr "The Nail" Gvozdyk and Medhi Amar will be televised live and exclusively at 8 p.m. EST on ESPN and stream live on the ESP


CM Punk's Been Training Like a Maniac for UFC Return, Says Tyron Woodley
17 Mar 2018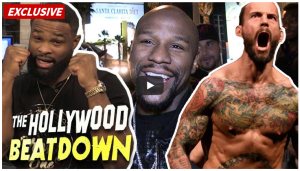 TMZ SPORTS -- CM Punk has been in the gym -- THREE TIMES A DAY -- training his ass off since his unsuccessful UFC debut ... and now Tyron Woodley says he's CONVINCED Punk can win in his return. "I just talked with him ye


Falcao excited for Massachusetts debut; ready to put on a show
17 Mar 2018
Plant City, FL (March 16, 2018) – World rated middleweight Yamaguchi Falcao returns to the ring Saturday, March 31 against rugged Colombian Richard "La Lamina" Gutierrez in an eight round contest at the Marina Bay Sportsplex in Quincy, MA. Born and raised in Brazil but now fighting out of Plant C


Team USA knocks off Team Ireland, 7-3
17 Mar 2018
USA Boxing's 2018 USA vs. Ireland Northeast Boxing Tour stop #2 SPRINGFIELD, Mass. (March 16, 2018) - Team USA defeated Team Ireland, 7-3, last night (Thursday) on the second stop of the three-city 2018 USA vs. Ireland Northeast Boxing Tour, at MassMutual Center MGM Springfield in Massachusetts.