There are 8,079 articles attributed to this author.
Displaying articles 1 to 10.
TRAINER MEDIA ROUNDTABLE QUOTES
25 Jul 2014
Abel Sanchez, Graham Shaw, Fred Jenkins & Adam Booth New York City (July 24, 2014) - Trainers for all four featured fighters on the G4 World Championship Boxing event this Saturday night, July 26 held court with the media at Madison Square Garden today to discuss their charges' upcoming battles.


Weights from 'Conquerors' ESPN Friday Night Fights at UIC Pavilion in Chicago
25 Jul 2014
Roberto Garcia 146 vs. Breidis Prescott 146.5 Caleb Truax 163 vs. Derek Ennis 160 Mike Lee 178 vs. Paul Gonsalves 176 Alex Martin 148 vs. Alfred Hall 143 Jaime Sandoval 146 vs. Aaron Steadman 146 Eddie Ramirez 139.5 vs. Alexis Del Bosque 138 Jose Felix Quesada 134.8 vs. Jose Romero


ANTOINE DOUGLAS vs. MICHEL SORO SHOBOX 200 FINAL WEIGHTS AND QUOTES
25 Jul 2014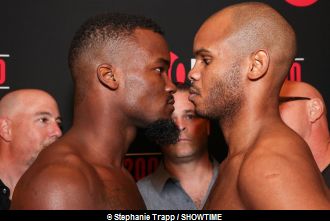 Landmark 200th Telecast From Turning Stone Resort & Casino In Verona, N.Y. Tomorrow/Friday, July 25, LIVE On SHOWTIME At 10 p.m. ET/PT VERONA, N.Y. (July 24, 2014) – Undefeated middleweight prospect Antoine Douglas weig


Fight Network Presents Fury vs. Ustinov LIVE this Saturday at 2 p.m. ET
25 Jul 2014
TORONTO | NEW YORK (July 24, 2014) - Fight Network, the world's premier 24/7 television channel dedicated to complete coverage of combat sports, presents a live broadcast of the Frank Warren and Hennessy Sports-promoted mega show from the Phones 4 U Arena in Manchester, U.K., as hard-hitting British


TOP TRAINER ROBERT GARCIA, WBO SUPER FEATHERWEIGHT CHAMPION MIKEY GARCIA & FORMER WBA LIGHTWEIGHT CHAMPION BRANDON RIOS, CONFIRMED FOR INAUGURAL BOX FAN EXPO TO TAKE PLACE THIS SEPTEMBER IN LAS VEGAS
25 Jul 2014
MEET AND GREET the world's biggest fighters, promoters and industry people at the first time, one of a kind event Las Vegas (JULY 24th, 2014) - The Robert Garcia Boxing academy, with 2013 trainer of the year Robert Garcia along with WBO super featherweight champion Mikey Garcia, and fan favorite


Bucks Daily - Milwaukee Bucks Dancers Audition Finale is TONIGHT!
25 Jul 2014
MILWAUKEE BUCKS DANCERS AUDITION FINALE IS TONIGHT! – After weeks of preparation that included prep classes, auditions, call-backs, a rigorous boot camp and a vote for the fan favorite, tonight is the night for the Milwaukee Bucks Dancers LIVE audition finale. The LIVE audition finale for the 30


SONSONA TO FIGHT FOR A WORLD TITLE ELIMINATOR
24 Jul 2014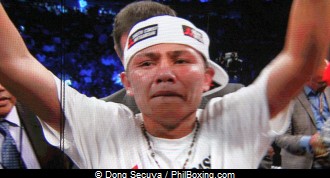 Marvin Sonsona is headed for another lucky break. A few months from now, he will be fighting for a title eliminator in the featherweight division against Jayson Velez, the winner to be the mandatory challenger against t


BRANDON RIOS MEDIA DAY PHOTOS
24 Jul 2014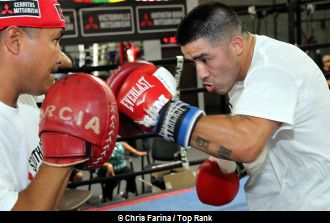 July 23, 2014, Oxnard,Calif. --- Former World Lightweight champion Brandon Rios of Oxnard,Ca. works out with trainer Robert Garcia(L) during media day in Oxnard, Ca. for his eagerly-anticipated 2014 debut in a 10-roun


Undercard Announced for 'Conquerors', ESPN Friday Nights Fights Tripleheader at UIC Pavilion This Friday, July 25
24 Jul 2014



No less than six big fights, featuring local fighting favorites against quality opponents in the welterweight or light welterweight divisions, are scheduled for the undercard of this Friday's stacked nationally televised trip


Notable ShoBox Alums Look Back On The Experiences That Helped Make Them World Champions
24 Jul 2014
Malignaggi, Guerrero, Bradley, Dawson, Hatton, Porter & More Express Praise and Gratitude For "ShoBox: The New Generation'' In Testimonial Videos On The Boxing Blog Plus, Check Out www.ShoBox200.com For Feature Pages On Eight Of The Most Successful Fighters To Graduate From ShoBox They came i