There are 7,713 articles attributed to this author.
Displaying articles 1 to 10.
Keith Thurman vs. Julio Diaz and Undercard Media Workout Quotes
24 Apr 2014
MEDIA WORKOUT QUOTES FOR SATURDAY'S TRIPLEHEADER ON SHOWTIME®, SHO EXTREME® FROM STUBHUB CENTER IN CARSON, CALIF. THREE-FIGHT SHOWTIME CHAMPIONSHIP BOXING TELECAST STARTS AT 9 P.M. ET/6 P.M. PT, FOLLOWING EPISODE 2 PREMIERE OF "ALL ACCESS: MAYWEATHER VS. MAIDANA" First Live Fight is 1 p.m. PT;


PHOTOS: GENSAN FETES PACQUIAO
24 Apr 2014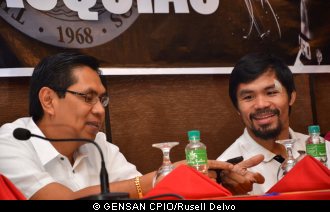 GENERAL SANTOS CITY (24 April 2014) - Sarangani Rep. Manny Pacquiao is feted by City Mayor Ronnel Rivera and the rest of the city government family during a testimonial dinner for the "People's Champ" Wednesday, Apri


FLOYD MAYWEATHER AND MAYWEATHER PROMOTIONS FIGHTERS MEDIA WORKOUT QUOTES AND PHOTOS
24 Apr 2014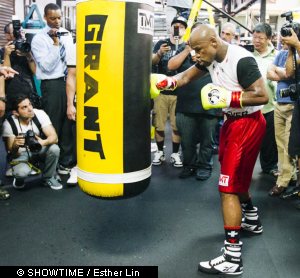 FLOYD MAYWEATHER, 10-Time World Champion "In 18 years I haven't brought my best out yet. Being around the sport for so long, I have a lot of experience. I've boxed my whole life. I've never worked a job.


SHOWTIME Sports To Stream Thurman vs. Diaz Weigh-In Live Across Multiple Platforms Friday At 4 ET/1 PT
24 Apr 2014



SHOWTIME SPORTS® TO STREAM KEITH THURMAN vs. JULIO DIAZ WEIGH-IN LIVE VIA SATELLITE, YOUTUBE & MORE THIS FRIDAY, APRIL 25, AT 4 P.M. ET / 1 P.M. PT Satellite Coordinates, Embed Codes & Links Are Below SHOWTIME Sports


FROILAN SALUDAR vs. MCWILLIAMS ARROYO FOR THE IBF WORLD #1 FLYWEIGHT ELIMINATION
23 Apr 2014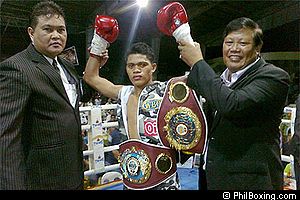 For Froilan Saludar, the long wait is over. Come May 31, 2014 in Puerto Rico, he will fight for the IBF # 1 world ranking in an elimination bout against McWilliams Arroyo. The IBF has formally sanct


LUIS COLLAZO BIRTHDAY ROUNDTABLE QUOTES
23 Apr 2014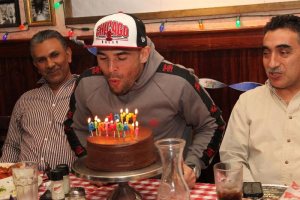 NEW YORK CITY (April 22, 2014) - Former WBA Welterweight World Champion and current WBA International Welterweight Champion Luis Collazo spent the afternoon of his birthday speaking with reporters about what he calls the "high


Gov. Solon updates DOH Secretary on provincial hospital
23 Apr 2014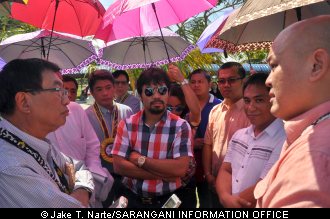 ALABEL, Sarangani (April 23, 2014) - Governor Steve Chiongbian Solon (extreme right) updates Health Secretary Enrique Ona (extreme left) on the ongoing construction of Sarangani Medical Center (SMC) or provincial hospital du


FIVE BOUTS ADDED TO ONEFC: HONOR AND GLORY
23 Apr 2014
23 April 2014 – SINGAPORE: ONE Fighting Championship™ (ONE FC) has added five additional fights to the card for ONE FC: HONOR & GLORY, which is set to take place on 30 May at the Singapore Indoor Stadium. ONE FC: HONOR & GLORY, which is headlined by welterweight king Ben Askren making his ONE FC


TOP PROMOTER LOU DIBELLA "DIBELLA ENTERTAINMENT" CONFIRMED FOR INAUGURAL BOX FAN EXPO TO TAKE PLACE THIS SEPTEMBER IN LAS VEGAS
23 Apr 2014
MEET AND GREET the world's biggest fighters, promoters and industry people at the 1st time, one of a kind BOXING EXPO event Las Vegas (APRIL 22nd, 2014 - Top promoter Lou Dibella "Dibella Entertainment" has confirmed that he will appear and have a Booth at the Las Vegas Convention Center for the


Donaire - Vetyeka Title Fight on HBO, May 31, at Venetian Macao
23 Apr 2014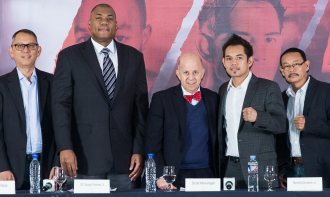 FEATHERWEIGHT FURY! THREE FEATHERWEIGHT WORLD TITLE FIGHTS ON ONE BLOCKBUSTER CARD! NONITO DONAIRE vs. SIMPIWE VETYEKA NICHOLAS WALTERS vs. VIC DARCHINYAN EVGENY GRADOVICH vs. ALEXANDER MISKIRTCHIAN