There are 8,745 articles attributed to this author.
Displaying articles 1 to 10.
JI XIAN DEFEATS SONG YA DONG BY UNANIMOUS DECISION
20 Dec 2014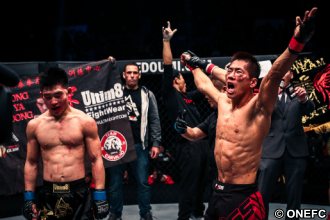 PLUS: ADRIAN PANG EMERGES VICTORIOUS OVER VINCENT LATOEL ALSO: LI KAI WEN WINS BEIJING FEATHERWEIGHT TOURNAMENT AND LI WEI BIN WINS BEIJING FLYWEIGHT TOURNAMENT 19 December 2014 – Beijing, China: Asia's largest mixed


Thomas Dulorme Gives Back To His Community in Puerto Rico
20 Dec 2014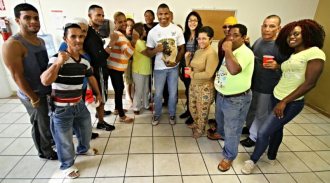 PUERTO RICO (December 19, 2014) - Since coming home to Puerto Rico after his spirited HBO Boxing After Dark victory against Hank Lundy, world title contender Thomas Dulorme (22-1, 14 KO's), has been very active in his community,


ALA-COBRA: LABORDO STOPS TOYCO IN ILO-ILO
19 Dec 2014
Juren 'Turbo' Labordo beat Jaymart Toyco by seventh round TKO in the main event of the 7th ALA-Cobra "Tunay Na Lakas" Boxing card held Thursday in Katilingban Gym, Molo, Iloilo. Labordo managed to turn the tables in their grudge rematch. Last year, Toyco won by TKO, also in the seventh round, in


BERMANE STIVERNE, DEONTAY WILDER AND DON KING INTERNATIONAL MEDIA CONFERENCE CALL HIGHLIGHTS
19 Dec 2014
"Jan. 17 is going to be a short night and it's going to be painful." —Bermane Stiverne "I have no doubt at the end of this fight my hand will be raised as the new heavyweight champion of the world." – Deontay Wilder SHOWTIME CHAMPIONSHIP BOXING® LIVE On Jan. 17 At 10:00 p.m. ET/7:00 p.m. PT F


ADONIS STEVENSON vs. DMITRY SUKHOTSKIY OFFICIAL WEIGHTS
19 Dec 2014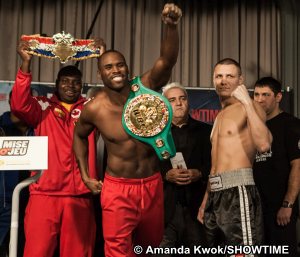 SHOWTIME BOXING: SPECIAL EDITION, Tomorrow/Friday, Dec. 19, Live on SHOWTIME® From Pepsi Coliseum In Quebec City, Canada WBC LIGHT HEAVYWEIGHT WORLD CHAMPIONSHIP – 12 Rounds Adonis Stevenson – 174 ½ Pounds Dm


Rejuvenated Antonio Tarver Calls out David Haye
19 Dec 2014
TAMPA (Dec. 18, 2014) - All five-time world champion Antonio "Magic Man" Tarver (31-6, 22 KOs) wants for Christmas is a signed contract to fight former two-division world champion David Haye (26-2, 24 KOs), ideally, during the first-quarter of 2015. Tarver had been sending direct tweets for the p


MILWAUKEE'S LARRY SANDERS SUSPENDED
19 Dec 2014
NEW YORK, Dec. 18, 2014 – Milwaukee Bucks center Larry Sanders has been suspended one game without pay for pushing Portland Trail Blazers forward Nicolas Batum in the back as he elevated toward the basket, it was announced today by Rod Thorn, President, Basketball Operations. The incident, which


ONE FC: DYNASTY OF CHAMPIONS OFFICIAL WEIGH-IN RESULTS
18 Dec 2014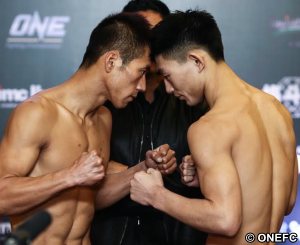 JI XIAN AND SONG YA DONG MAKE WEIGHT AHEAD OF MAIN EVENT SHOWDOWN CATCH ALL THE ACTION LIVE ON FOX SPORTS 3 AND ON PAY-PER-VIEW AT WWW.ONEFC.COM/LIVESTREAM 18 December 2014 – Beijing, China: ONE Fighting Cham


LABORDO VS TOYCO IN ILO-ILO ALA-COBRA CARD
18 Dec 2014
Juren "Turbo" Labordo will seek vengeance against Jaymart Toyco in their rematch on the main event of the ALA-Cobra "Tunay na Lakas" card held today December 18 at the Brgy. Katilingban Gym, Molo, Iloilo City. Last year in Dumaguete City, Labordo (13-2,8KO's) lost to Toyco (14-6,10KO's) by TKO in


HAPPY BIRTHDAY MANNY PACQUIAO!
18 Dec 2014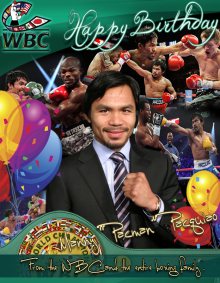 A BIRTHDAY GREETING FROM WBC PRESIDENT MURICIO SULAIMAN AND THE WORLD BOXING COUBCIL TO "FIGHTER OF THE DECADE" AND EIGHT DIVISION WORLD CHAMPION MANNY PACQUIAO.