There are 13,133 articles attributed to this author.
Displaying articles 1 to 10.
Bob Arum Says Manny Pacquiao Will Fight Conor McGregor, If Floyd Won't (VIDEO)
28 May 2017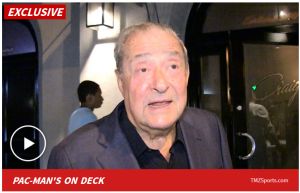 TMZ SPORTS -- If Floyd Mayweather doesn't get off his butt and sign the paperwork to fight Conor McGregor, Manny Pacquiao WILL ... so says Manny's promoter, Bob Arum. Conor has been snuffing Floyd in the media for days now .


Damir Ismagulov stops Maxim Divnich to become new M-1 Challenge Lightweight Champion
28 May 2017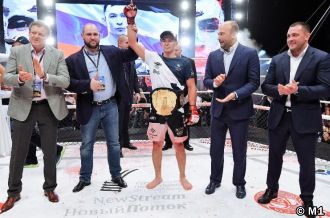 M-1 CHALLENGE 78 RESULTS ORENBURG, Russia (May 27, 2017) - A new M-1 Challenge lightweight champion was crowned last night as Damir Ismagulov knocked out former champion Maxim Divnich at the end of the fifth and fina


SABILLO KOS INDONESIAN TO CAPTURE ABF CROWN
28 May 2017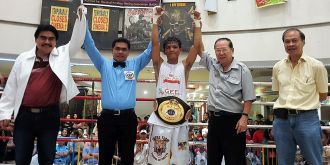 BACOLOD City --- Former world champion Merlito "Tiger" Sabillo showed back his old fiery form by knocking out Indonesian Jack Amisa in the 3rd round to win the vacant Asian Boxing Federation (ABF) light flyweight title last


TIM TSZYU TO SHOWCASE HIS TALENTS IN THE GARDEN CITY
28 May 2017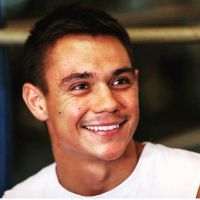 Tim Tszyu. ONE OF THE MOST FAMOUS NAMES IN AUSTRALIAN AND WORLD BOXING IS COMING TO TOOWOOMBA. Tim Tszyu, the son of elite former World Champion Kostya Tszyu is confirmed to have his sixth professional bout on the TGW &


BROOK V SPENCE: AIRING LIVE IN CANADA TODAY EXCLUSIVELY ON SUPER CHANNEL
28 May 2017
EDMONTON, Alberta, Canada (May 27, 2017) - Super Channel subscribers across Canada will be able to watch the highly-anticipated International Boxing Federation (IBF) Welterweight World Championship fight this afternoon,starting at 3 p.m. ET/ 12 p.m. PT,between defending champion Kell "The Special On


Kell Brook vs Errol Spence Jr.: Will Brook expose "The Truth" today on SHOWTIME?
27 May 2017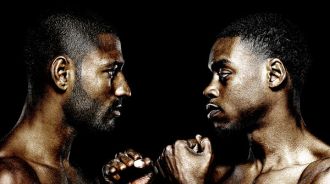 KELL BROOK, ERROL SPENCE JR. TO CLASH IN ONE OF 2017'S MOST ANTICIPATED BOUTS SATURDAY, MAY 27 5:15PM ET / 2:15PM PT SHOWTIME. The first world title fight of Errol Spence Jr.'s promising career will be a tall order.


"Brave Warriors In Action" PPV weights & quotes
27 May 2017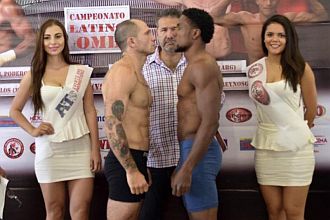 MAIN EVENT - VACANT WBO LATINO LIGHT HEAVYWEIGHT CHAMPIONSHIP (10 rounds) MANUEL "El Venado" CEBALLOS (12-1, 8 KOs), Merida, Yucatan, Mexico lbs. vs. CESAR HERNAN REYNOSO (14-8-4, 7 KOs, Mardel Plata, Buenos Aire


SHOWTIME SPORTS® TO OFFER FACEBOOK & YOUTUBE LIVE STREAM OF GROVES vs. CHUDINOV WORLD TITLE FIGHT THIS SATURDAY AS PRELUDE TO BROOK vs. SPENCE
27 May 2017
Kell Brook Defends IBF Welterweight World Championship Against Errol Spence Jr. Live on SHOWTIME® At 5:15 p.m. ET/2:15 p.m. PT NEW YORK (May 25, 2017) – SHOWTIME Sports will offer a fully-produced Facebook and YouTube live stream of George Groves vs. Fedor Chudinov Super Middleweight World Champi


KELL BROOK vs. ERROL SPENCE JR. FINAL WEIGHTS
26 May 2017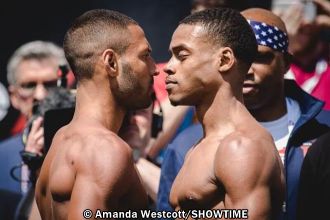 WELTERWEIGHT WORLD CHAMPIONSHIP ON SHOWTIME® AT BRAMALL LANE IN SHEFFIELD, ENGLAND Tomorrow/Saturday, May 27 At 5:15 p.m. ET/2:15 p.m. PT SHOWTIME CHAMPIONSHIP BOXING® Live At 5:15 p.m. ET/2:15 p.m. PT Kell Brook


Former world champion Kermit Cintron battles Tyrone Brunson in a Pennsylvania clash
26 May 2017
Junior Middleweights on Saturday, June 24 at the 2300 Arena in Philadelphia Philadelphia, PA (May 26, 2017) - Former two-time world champion Kermit Cintron will take on Tyrone Brunson in an highly anticipated ten-round junior middleweight bout that will headlined a packed night of boxing on Satur